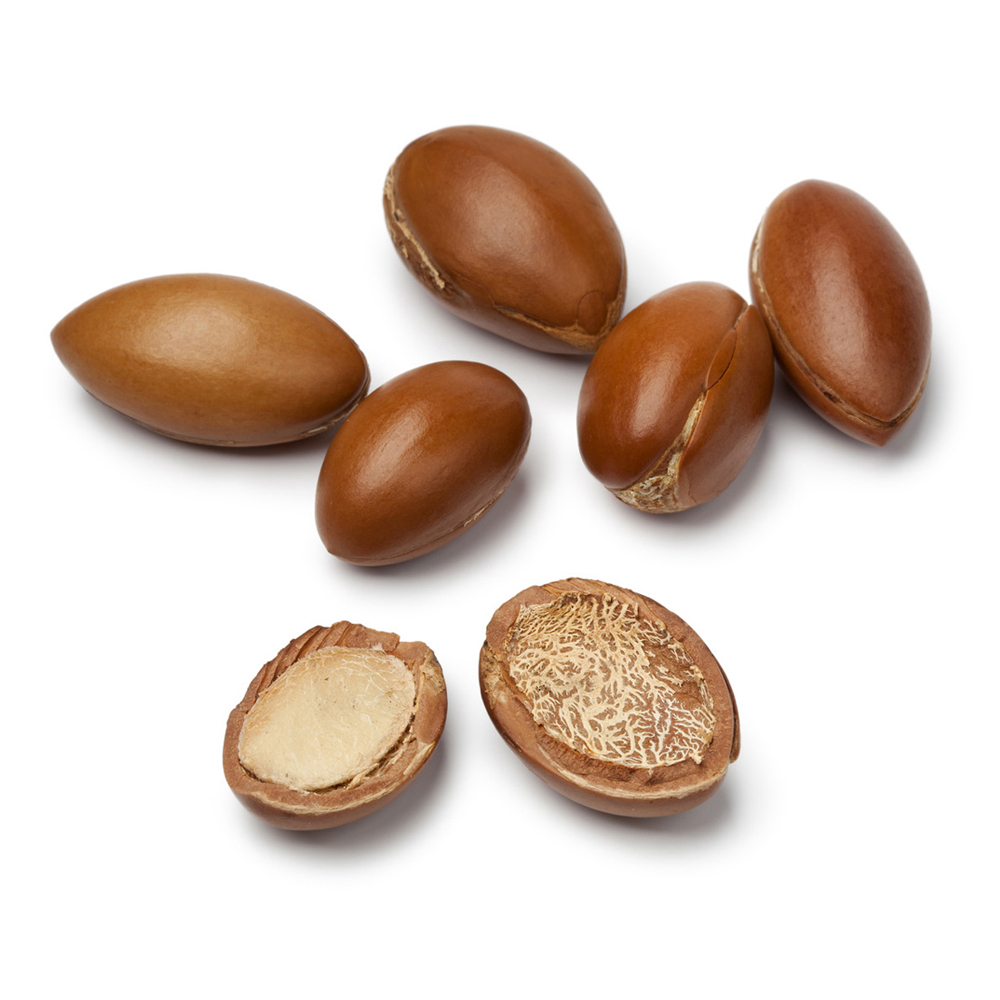 The golden argan oil is praised for its many benefits on skin and hair. Soothing, conditioning, hydrating... get used to glorious hair and healthy skin.
Description
Argan oil is produced from the kernels of the argan tree. In Morroco, where Lush buys the precious oil, the very hard kernels are crushed by hand by women from different co-operatives, in respect of the traditional method. The released seeds are then sent to Agadir where they are pressed to make the oil.
Argan oil is traditionally used as a treatment for skin conditions, including acne and eczema. It contains high levels of fatty acids including linoleic acid which is anti-inflammatory and therefore will soothe the skin, and oleic acid which will protect and condition skin, scalp, and hair as well as restoring hydration.
There's also a lot of vitamins in this oil which are said to be antioxidant like the well-known vitamin E. Antioxidants are compounds that are thought to counteract the oxidation of the skin cells, which means they'll improve skin's appearance and strength.
FEATURED
Argan oil - Sourcing Morocco's liquid gold
Prized argan oil, famed for its versatility and quenching effect on the skin and hair, is indigenous to Morocco. Here, women's co-operatives are working together to expertly and responsibly source this liquid gold.
The sun beats down on Arganeraie, Morocco, signalling the start of another hot day. The months from July to October are busy for members of a local women's co-operative, who wake early to search for discarded fruits which fall regularly from mature argan trees during this period.
Argan oil has been used for culinary, cosmetic and medicinal purposes by the Berber people for centuries, yet over the last decade, the oil has become big business in the international beauty industry. This boom has provided a large source of income for local communities who are keen to source the oil sustainably. Protection of the argan trees and the eco-system they support is of paramount importance. 
After collecting the precious argan fruits before grazing goats reach them, co-operative members bring the kernels to a cool community building and begin to process the fruits into an oil. At Ifrawnlhna, 42 women currently work together to prepare an average 1kg of shelled argan kernels each per day, removing the outer flesh and cracking the inner shell.
The kernels are then transported to the city of Agadir, where they're squeezed together to extract the rich, amber liquid. It takes an estimated 2.3kg of argan kernel to produce a litre of the oil. To ensure that none of the fruit is wasted, argan cake (a byproduct of the process) is sold locally for cosmetic purposes, while the nutritious pulp is fed to village animals and the shells are burned for firewood.
There are currently around 22 village co-operatives sending their processed kernels to Agadir. The argan oil operation is directed from here, with an elected president and union which arranges quality checks and exports, whilst managing demand.
Whenever an order is placed, it is designated to one of the village groups which produce it in full. This ensures that each delivery batch can be traced back to the workers who prepared it, and makes it easier to maintain high standards of freshness. As well as certifying that the oil produced is high quality, traceable and fresh, the union arranges ongoing training and assessments for each co-operative to help them all reach ECOCERT organic and Fair Trade status. This will secure their rank as artisan producers, ensuring they receive a fair price for their oil from all buyers.
The union also works to keep business sustainable and environmentally friendly for local communities. The local government has funded the annual planting of around 300 hectares of saplings to protect this valuable industry for future generations and improve soil security. Amongst the quiet villages, argan trees are interspersed with almond, olive and jujube and more can be seen on the hillsides, their roots keeping the desert at bay. This valuable oil has a very important role to play on a local level, even as its star continues to rise in international markets.  
Photography by Stephanie Newton