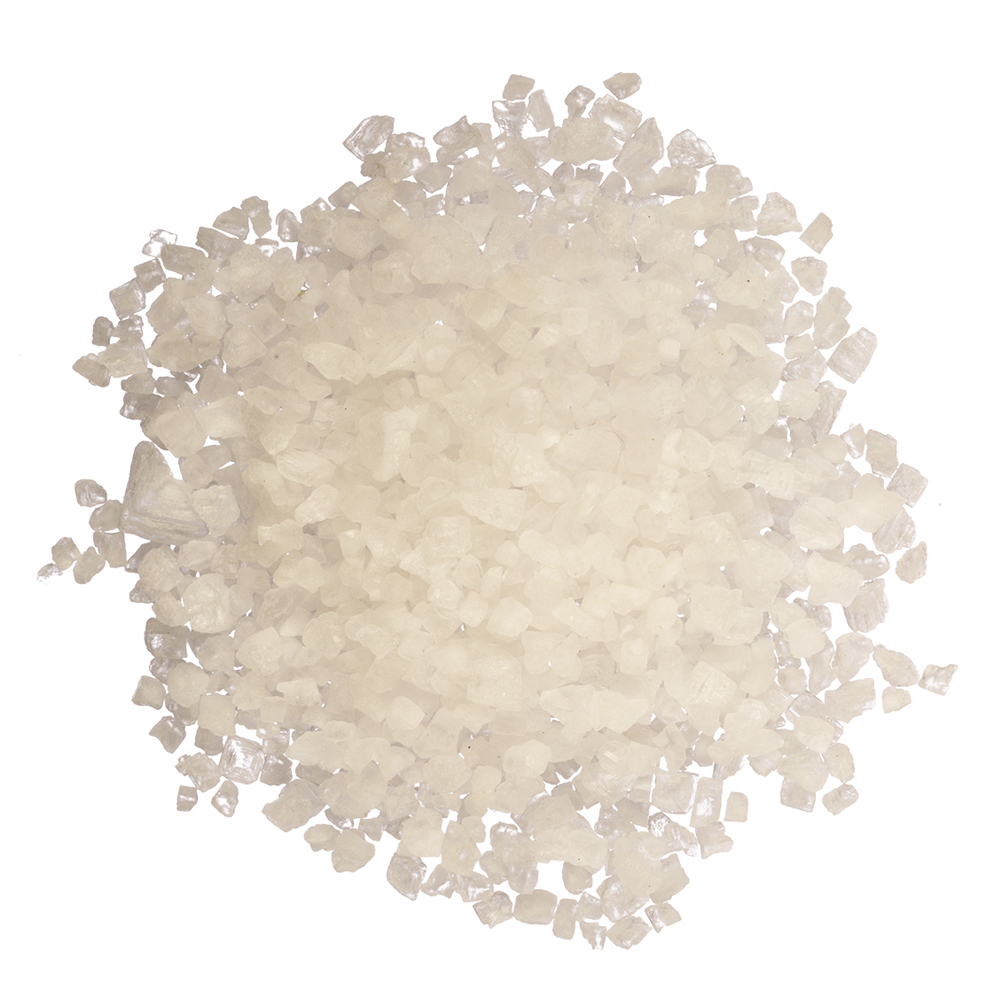 As it exfoliates, coarse sea salt cleanses, softens, and brightens the skin without stripping away too much natural oil. It's also a traditional ingredient for bathing - slowly dissolving in the warm water, it gives soaks relaxing and soothing properties.
Description
There are different types of salt - some come from the sea (or saltwater lakes) and are obtained by evaporating water, while others are mined from the ground. Sea salt is less processed than conventional table salt and therefore remains full of moisture and the various minerals and elements found in the area where it is harvested. This is also why it must be tested regularly to ensure that it hasn't been contaminated with pollutants.
Moreover, salt is a natural preservative which can help to keep products clean and free from micro-organisms when used in appropriate quantities. 
Lush purchase this coarse sea salt from a producer in Nin, Croatia. Their salt pans and harvesting techniques are more than 1500 years old. Each year they are visited by around 150 different bird species, mainly migratory, as the salt pans and their surroundings provide excellent feeding, shelter and breeding conditions. They can even see flamingos in the winter! 
FEATURED
Preventing illegal killing of the Nin salt pan birds
Buying salt from one of Croatia's smallest salt pans doesn't just help support the local economy but also helps protect the birds living there from being shot for sport thanks to new security measures put in place following last year's slaughter of rare Tundra swans and Shelducks. Laura Briggs reports.
Malena the stork is quite the celebrity in Croatia. Twenty-six years ago, while navigating the skies on her annual migration between Europe and Africa, she was shot down and badly injured. Like so many thousands of birds, Malena was targeted for simply being in the wrong place at the wrong time.
After the shooting, which had left her unable to fly, Malena was taken under the wing of human, Stjepan Vokic, who built her a nest on top of his house, and who started to go out fishing to find the right food for the rescued stork and, subsequently, her chicks.
Now, every spring, a male stork, called Klepetan, returns to Malena for the breeding season, after having spent the winter in Africa. 
The story of Malena stole the heart of nations, but the illegal shooting and killing of innocent migratory birds is an all-too-common tale.
At one of the smallest salt pans in the Adriatic, workers at Solana Nin in Croatia harvest the salt by hand, while maintaining a precious sanctuary for birds and wildlife. People and nature co-habited harmoniously here until early last year when two rare Tundra swans were shot dead followed by 20 Shelducks.
What happened at Nin is made more of a tragedy by the fact that the two Tundra swans shot dead had only been sighted in the area six times in 20 years. And the 20 Shelducks  shot at the same site were thought to have been the only breeding colony in Croatia.
All the birds that were killed, were simply discarded and left in the field suggesting their deaths were the result of shooting for sport alone. And since the salt pans of Solana Nin are accessible to everyone, the fact is anyone can get close enough to shoot any number of the birds living there making stepping up security to protect the birds an imperative.
Vedran Lucic, Programme Manager at Association Biom - the Croatian arm of Birdlife - wanted a more visible security presence in the area to deter illegal poachers and to collect information about those who were carrying out the killings.
He explains: "We discovered that those doing the shooting were not locals. People would drive all the way to the salt pan, shoot some birds, and then leave."
Lush, which buys salt from Nin (as well as from other bird-friendly salt pans in countries including Brazil, Spain, Portugal and Bulgaria), agreed to help fund the cost of increasing security and Vedran is now implementing measures as recommended by the Campaign Against Bird Slaughter (CABS) to make sure conservationists are better prepared to police the issue and protect the birds.
This contributes to keeping the traditional practice of salt harvesting alive, bringing employment to areas that may otherwise be struggling economically.
Buying the salt from Nin and other salt pans around the world not only helps support a rich habitat for birds which use them for mating and nesting,  feeding, and as resting locations during migration to and from Africa, but can often also help keep traditional salt harvesting practices alive, bringing employment to areas and families which may otherwise struggle economically..
Raquel Rubim,  Ethical buyer at Lush, stresses the importance of supporting the salt pans in this way, explaining: "Most of the salt pans we buy from are run in the same way they would have been hundreds of years ago. Employment is important for the workers -  they rely on the income from the salt pans - but they are also important for conservation."
When it comes to improving the birds' habitats at Nin, Vedran said they are following a strategy they use in Spain to recreate foxholes in the ground, where Shelducks (a burrowing bird) commonly nest.
It is hoped that this will encourage the birds to start breeding again in Croatia.
It is also hoped that the Tundra swans will one day return again and, excitingly, Vedran has reported that eight flamingos have been at the salt pan for two months now, which is encouraging news.
Nin is thriving, thanks to the tradition of hand-harvested salt, and tourism in the area is welcomed. There are tours of the salt pan, which include information about the conservation and ecology of the area which serve to further educate those who come to visit.
While Malena the stork highlights the plight of migratory birds, it was only by chance that she found a happy ending. Hopefully, thanks to the work of Vedran and Association Biom, working together with Raquel and the Ethical buyers at Lush, we can help to protect all kinds of bird species from ever having to suffer the same fate at the hands of illegal poachers.
CREDITS: All photos courtesy of Solan Nin.
What happened at Nin is made more of a tragedy by the fact that the two Tundra swans shot dead had only been sighted in the area six times in 20 years