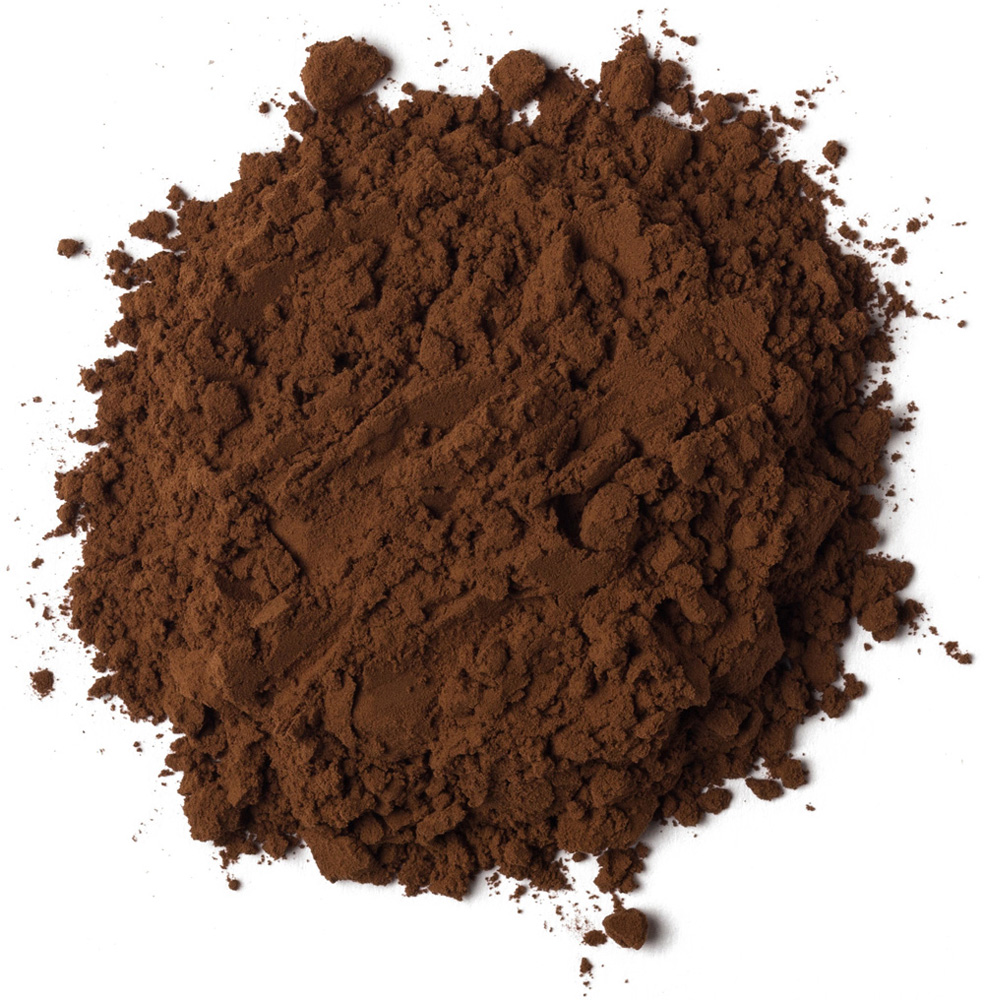 Softening and antioxidant
Containing cocoa butter residues, the fragrant cocoa powder has a silky texture and softens the skin. But most importantly, it smells really yummy!
Description
The cacao tree (Theobroma cacao) grows in warm, humid forests near the equator. It yields large dark red or yellow pods containing up to 50 seeds each, coated by a soft, edible flesh. The seeds, also called cocoa beans, are covered to ferment and then dried. During this process, they lose their acidic taste and develop their familiar chocolate scent. 
To obtain cocoa butter and powder, the prepared beans are cleaned, dried and roasted and then ground into a thick, oily paste called chocolate liquor. The liquor can be used as such for chocolate-making or subjected to high pressure to separate cocoa powder from the butter. 
Cocoa powder is rich in flavonoids which are antioxidant components found in many fruits and vegetables. They are made by plants to prevent premature cell breakdowns caused by exposure to atmospheric agents such as pollution, heat and sunlight. Thought to be good for the skin as well, they keep it firm and bright.
Finally, cocoa powder has a rich aroma, good for the mind. It contains more than 300 different compounds and many of which are believed to increase our endorphins and serotonin production when inhaled, so do not be afraid to have a sniff!
Lush has been buying cocoa beans from the Peace Community of San José de Apartadó (in northwestern Colombia) since 2010 and supports the community's application for Fair Trade and organic producers certification every year. 
The Peace Community consists of farmers who are all committed to non-violence in a region ravaged by armed conflicts. They have incorporated permaculture techniques in their growing practices, such as mixed planting and composting, so they don't need to buy pesticides and fertilisers. Once collected, cocoa beans are shipped to Europe for processing into butter and powder.
Cocoa butter is highly prized for its softening, moisturising and conditioning properties. It is made from the fruit of the cacao tree, which is native to tropical America, and can grow up to thirty feet tall. We buy the Fairtrade Organic cocoa butter used in our Peace Massage Bar from one of our most extraordinary suppliers: the Colombian Peace Community of San José de Apartadó.
Cocoa butter is a delicious ingredient which reacts to the temperature of the body and melts into the skin. The cocoa butter that we use in our Peace Massage Butter is particularly special, as we buy the beans, rather than the finished butter, directly from the famers at the Peace Community of San José de Apartadó in north-west Colombia.
In recent years there has been growing concern about the use of child labour in the harvesting of cocoa beans. As cocoa butter tends to be made from a mixture of cocoa beans that are available on the open market, it is hard to trace and difficult to establish a direct source.
However, since 2010, we have been buying cocoa beans from the Peace Community, and shipping them to Italy to be processed into cocoa butter and powder. This means that we can be sure it is totally traceable, Fairtrade and 100% organic.
The Peace Community was founded in 1997, against a backdrop of violence and intimidation by the army, leftist guerilla fighters and right-wing paramilitary groups. A group of around 2,100 farmers pledged themselves to non-violence; all they ask is that those around them respect their right to peace and non-involvement in the conflict under international human rights law. As a result, the state has withdrawn all support, including mains electricity, schools and healthcare. The community has also become a target for those seeking control of their land; they have lost 261 members - men, women and children - as a result.
Despite this huge instability, the community remains committed to living in harmony with their surroundings, and working the land is their only source of income. They cultivate a variety of crops to eat and to sell including bananas, avocados, corn, rice, beans, plantains, and, of course, cocoa beans, which is the main cash crop. Lush is the main buyer of the community's cacao, as paramilitaries often prevent them from selling their crop in Colombia.
At their ecological research centre and Farmer's University, the community has developed ways of growing which incorporate permaculture techniques, such as mixed planting and composting, so they don't need to buy pesticides and fertilizers.
The farmers have also been working hard to breed a strong variety of native cacao from plants that are 100% organic.
Initially, the seedlings are grown in a special compost made in the community, before being planted out in fields. By the time the trees are two years old, they are already producing cacao pods.
Cocoa pods that look healthy and ripe are collected and opened with a machete to make sure that the beans are all good quality. The beans are scooped out of the pods by hand into a bucket. Any bad beans, and all of the pods, are left on the ground by the trees to compost, so that all of their nutrients can be absorbed back into the soil. The beans are then bagged up and taken on horseback to secure areas in the community to be fermented.
At this point, the beans are emptied into a box near to the house, where they are stirred every morning and afternoon for 4-5 days, so they they ferment well. After this, they are dried naturally in the sun, before being taken to a central store house and weighed into sacks when the drying is complete.
The dried beans are loaded onto trucks and taken to the port of Cartagenia, to be shipped to our processor in Orsenigo, Italy. Here the beans are sterilised, roasted and pressed, in order to produce cocoa butter and cocoa powder, which is shipped to the Lush factory in Poole.
The cocoa butter is then used to make our beautiful peace massage bar, while the cocoa powder is used in our Cupcake Fresh Face Mask.
To read about the peace community from the perspective of an international observer, head over to https://www.lush.co.uk/article/day-life-peace-brigade-international-observer.
This article was published in March 2014.
The farmers have also been working hard to breed a strong variety of native cacao from plants that are 100% organic.