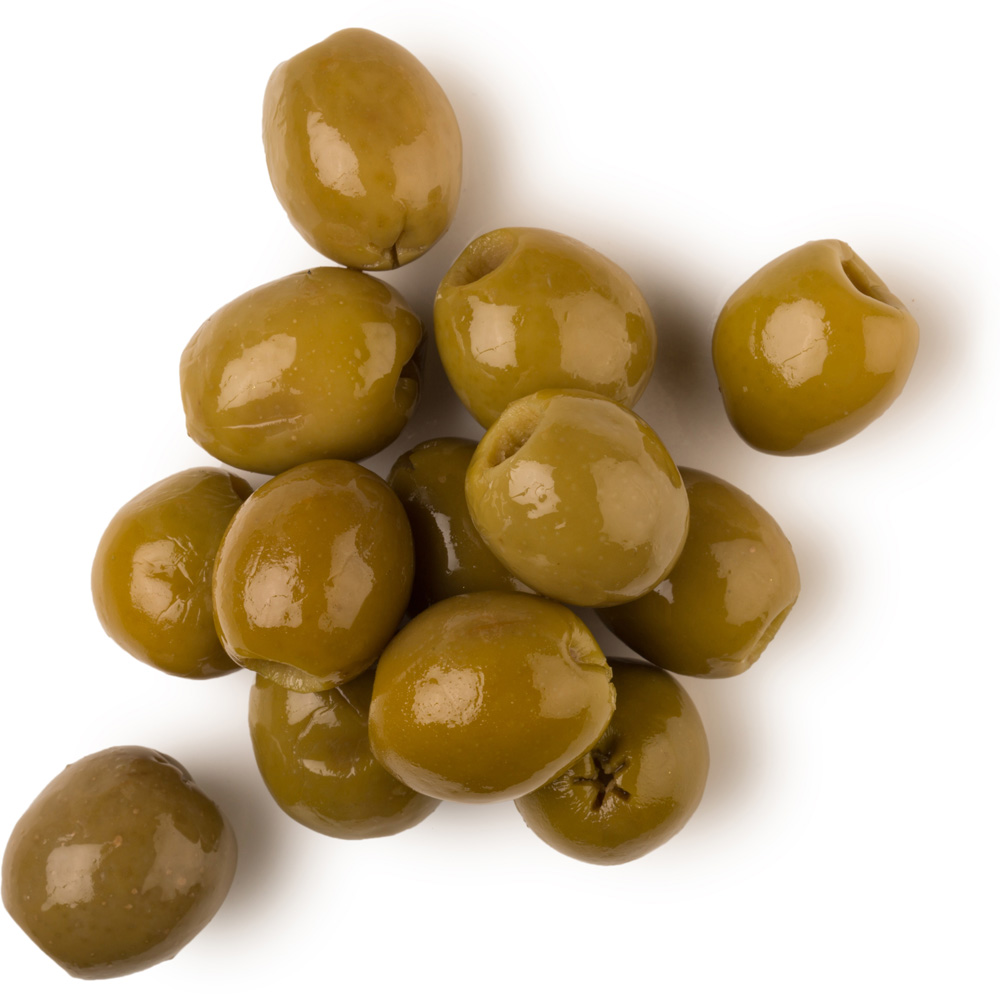 Olive oil moisturises and protects skin and hair as well as improving the strength. Containing some of the most powerful antioxidants in the world, it definitely helps to maintain firm and glowing skin.
Description
The olive tree (Olea europaea) is part of the large Oleaceae family, which includes Jasmine and Lilac. The tree has a thick trunk and gnarled grey bark and can live for thousands of years. It can grow fairly tall, but they are often pruned to a shorter height for ease of harvesting. The leaves of the tree have silvery grey undersides and are used for teas, decoctions and extracts.
Harvesting the green fruits usually involves shaking them from the trees using poles, after which the best olives are selected and processed. Though laborious compared to mechanical labour, hand harvesting remains the popular method.
The oil is so full of benefits for health, skin and hair that it would be difficult to summarise it in one page. Here are a few important facts though, especially when used in cosmetics.
Olives, olive leaves, and olive oil have been proven to have anti-tumour action and to protect against cancer. They contain a lot of antioxidant compounds such as vitamin E, hydroxytyrosol (a plant polyphenol) and oleic acid, which will help to fight free-radical activity on the skin and therefore help to keep it firm and bright. Moreover, the oil contains squalene, a compound that can also be found in the human sebum, meaning the oil will help to restore skin's moisture and be easily absorbed.
In our quantitative ingredient lists, 'extra virgin olive oil' is an umbrella name for olive oils from several different sources, all of the same grade and quality. Depending on availability and product needs, the oil can come from the Marda Permaculture Farm in Palestine, The Sindyanna co-operative in Israel, or from a few different countries of the Mediterranean basin in the case of our organic extra virgin olive oil.
FEATURED
Meet the Marda Permaculture Farm
In the town of Marda, Palestine - an area of prolonged political unrest - a farm founded on permaculture principles is reinvigorating the local community. Since 2006, local farmer Murad has utilised resourceful solutions such as food forests, composting, clever water systems and an abundance of other nature-based designs to turn the Marda Permaculture Farm into a flourishing paradise.
For generations, families from Marda, situated in the Salfit region of the West Bank, have tended to their olive groves and harvested exquisite olive oil, but when the West Bank fell to Israel many farms were dispossessed. Under Israeli military occupation, life for the olive farmers of Marda has been especially challenging.
In 2005, the Israeli government built the so-called Separation Wall - a physical barrier that separates many Palestinian people from their olive trees. In order to regain access and tend to their groves, these farmers must apply for a permit from the government. Even those with a permit, however, are often denied entry to the trees at certain times of the year without facing harassment from soldiers and confiscation of olives harvested. Farmers are often arrested simply for picking olives from their own land and, since the construction of the Separation Wall, water and land resources previously owned by Palestinians are often seized, making it even more difficult to look after their olive trees. The Israeli army has also been known to destroy olive plantations to force farmers off their land.
 
Despite the violent and turbulent political climate, one permaculture practitioner called Murad has worked vigilantly to create a project which promotes cultural, ecological and economic health within occupied territories. Murad hosts courses on permaculture design, home-scale permaculture gardens and beekeeping for the benefit of the community. At a hostile time when segregation by the Israeli government prevails, Marda Permaculture Farm helps to reconnect Palestinians to each other and to their environment.
 
Working with the three core ethics of permaculture; care of the earth, care of people and fair share, the project acts as a training model for local farmers and international permaculture students, teaching them how to make use of readily available local resources to establish farms that positively benefit biodiversity and ecosystem health. As a prolific example of resilience and food security, Marda Permaculture Farm helps to educate other local olive farmers on how to grow food and cash crops organically, also supplying local families with beehives so that they can produce their own honey. Additionally, training on water catchment and greywater systems help farmers to irrigate crops more efficiently.
 
The development of the Marda Permaculture Farm gives hope that, despite the difficulties faced by growers in Palestine, farmers can continue to make a living from the olive trees that their families have tended for generations. Since 2013, Lush's Ethical Buying team have sustained a relationship with them, purchasing olive oil from Marda Permaculture Farm and their local network of farmers at a fair price. This oil forms part of the extra virgin olive oil supply for Olive Tree soap.
 
Lush has also invested in Marda Permaculture Farm through Lush Giving streams, including granting funds for an underground cistern which provides water to the olive growers of Marda. The cistern ensures that farmers have access to a reliable source of water which cannot be shut off by the Israeli government.
 
The Marda Permaculture Farm is a powerful example of farming systems which contribute to the health of their environment and their community. The farm exemplifies how permaculture's core ethics and principles can be applied even amidst a context of extreme political unrest. Murad and the Marda community bravely continue to grow olive trees as a non-violent resistance to Israli occupation.
The image below has been provided by the Marda Permaculture Farm, and is of the olive groves surrounding Marda town. Some trees are estimated to be up to 3,000 years old.