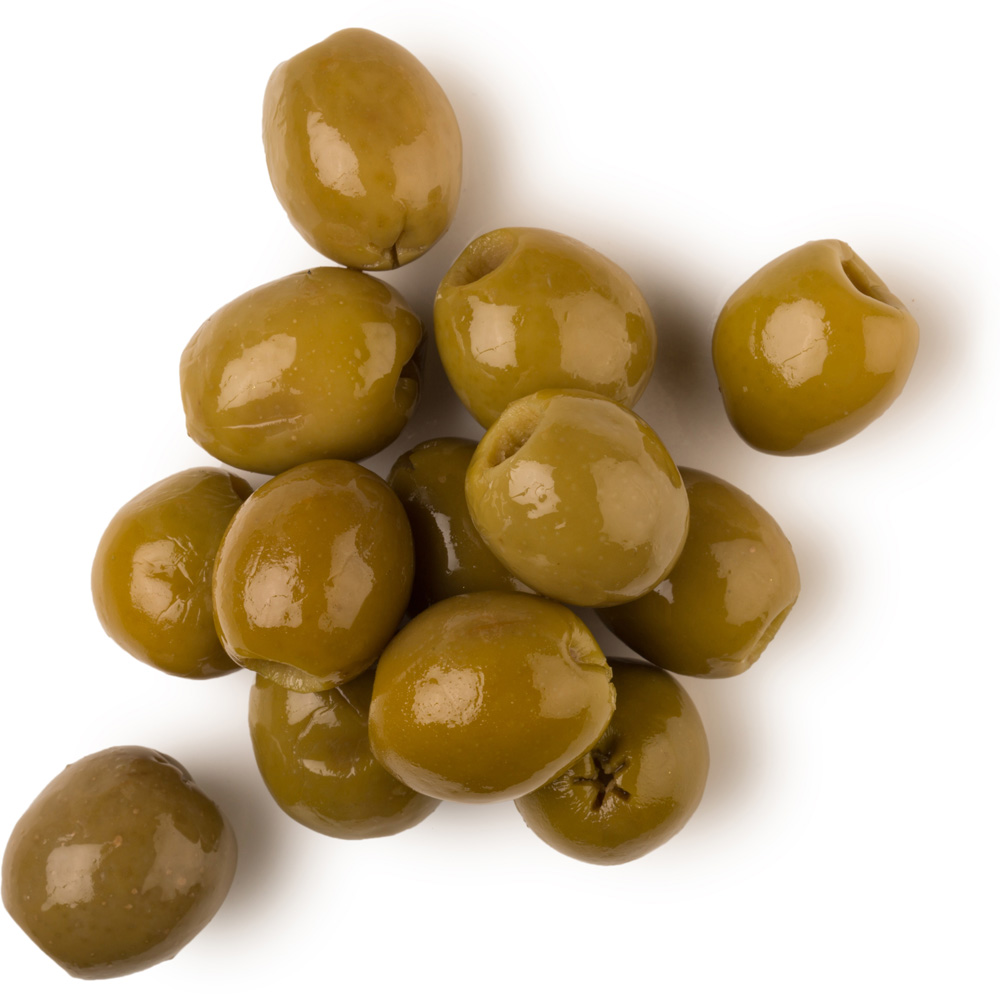 Moisturising and protective
Olive oil moisturises and protects skin and hair as well as improving the strength. Containing some of the most powerful antioxidants in the world, it definitely helps to maintain firm and glowing skin.
Description
The olive tree (Olea europaea) is part of the large Oleaceae family, which includes Jasmine and Lilac. The tree has a thick trunk and gnarled grey bark and can live for thousands of years. It can grow fairly tall, but they are often pruned to a shorter height for ease of harvesting. The leaves of the tree have silvery grey undersides and are used for teas, decoctions and extracts.
Harvesting the green fruits usually involves shaking them from the trees using poles, after which the best olives are selected and processed. Though laborious compared to mechanical labour, hand harvesting remains the popular method.
The oil is so full of benefits for health, skin and hair that it would be difficult to summarise it in one page. Here are a few important facts though, especially when used in cosmetics.
Olives, olive leaves, and olive oil have been proven to have anti-tumour action and to protect against cancer. They contain a lot of antioxidant compounds such as vitamin E, hydroxytyrosol (a plant polyphenol) and oleic acid, which will help to fight free-radical activity on the skin and therefore help to keep it firm and bright. Moreover, the oil contains squalene, a compound that can also be found in the human sebum, meaning the oil will help to restore skin's moisture and be easily absorbed.
Fair Trade olive oil found in Lush products comes from the women-led cooperative Sindyanna of Galilee in the northern region of Israel. It was founded by Jewish and Palestinian citizens of Israel to provide access to markets for Palestinian farmers, as a demonstration of peaceful cooperation and to empower women.
FEATURED
From a place of peace
The olives are all hand-harvested, either picked by hand or combed from the trees with a small rake, with nets in place on the ground to catch them.
The Sindyanna co-operative in Galilee, Israel, is a place of peace. Arab and Jewish communities work side by side to produce Fair Trade goods including extra virgin olive oil. This not-for-profit organisation that is so pioneering in its support of peace and union between two allegedly hostile peoples. The name 'Sindyanna of Galilee' refers to the Palestine Oak tree, which was chosen as a symbol of the strength of all the Arab citizens that remained living in Israel after many people were displaced.
Sindyanna is a women-led cooperative that strives for social change, seeking to help producers from the Palestinian occupied territories. Profits from the olive oil go towards Sindyanna's Welcome Centre, in which women from both Arab and Jewish communities work together learning one another's crafts, such as embroidery and basket weaving. The co-op combines commercial activity with community work, thus enhancing the empowerment of local women whilst developing the olive business. They stress the environmental concerns and commercial relations between Arab and Jewish communities, striving to reinforce the economy of the Palestinian population both in Israel and the occupied territories.
The co-operative sources their olives directly from producing families, harvested in Israel and the (currently occupied) West Bank. This is the best way, they say, to benefit the farmers and families involved in farming. The olives are harvested north of Israel from such places as Western Galilee, Wadi Arra and the Nazareth area. The olives are all either picked by hand or combed from the trees with a small rake, with nets in place on the ground to catch them.
Olive oil is full of powerful antioxidants. It also contains squalene which is often isolated from shark liver oil and used as a valuable ingredient in creams and ointments. Olives are one of the best alternative botanical sources, as they contain unusually high levels of the substance. The oil's composition makes it ideally suited to protect and hydrate the skin, also improve the tensile strength of hair and gently treat the scalp.