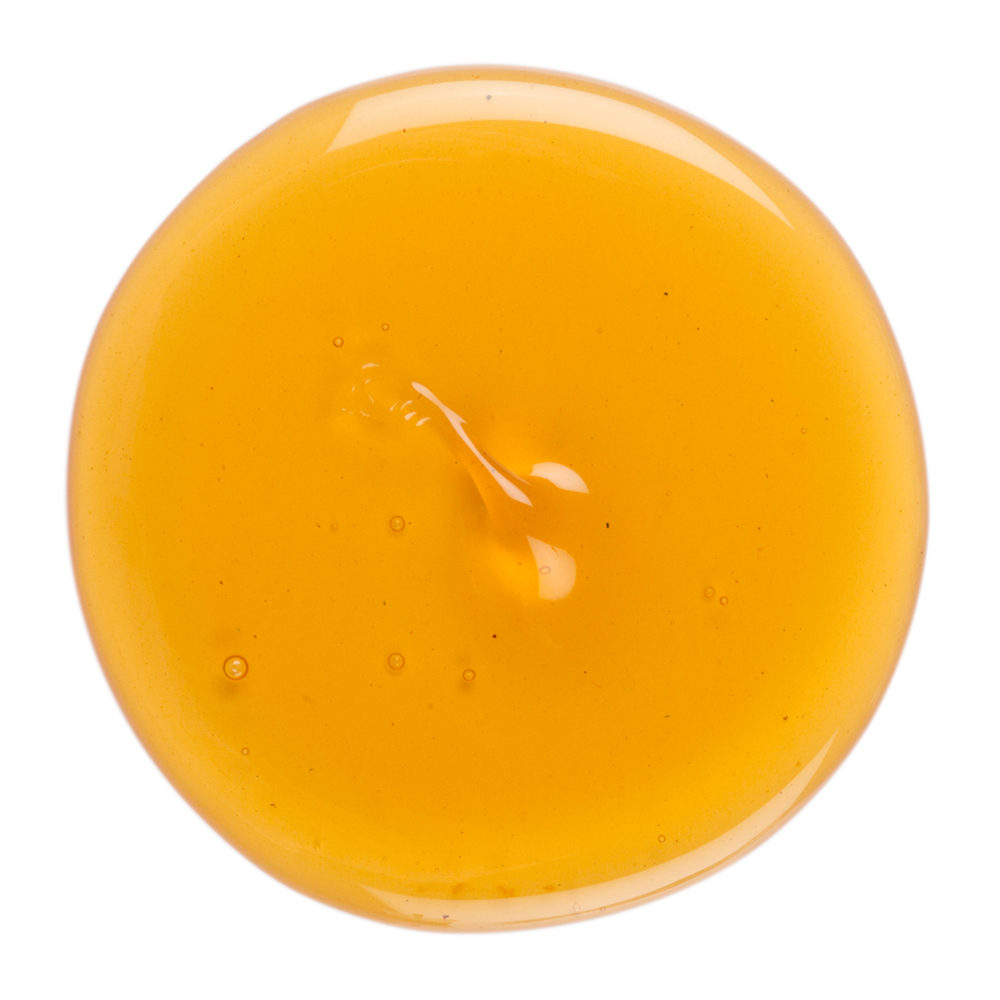 Honey is a fragrant, sweet, sticky liquid made by the hard-working honeybees. The benefits on the skin and hair are vast as honey contains lots of nutrients, is humectant, antimicrobial and antioxidant and has shown great wound healing properties over the centuries.
Description
Bees collect nectar from flowers and carry it to their hives where the worker bees convert it  into honey. Half a kilogram of honey contains the essence of about two million flowers and the colour, fragrance and properties of honey vary depending on the varieties foraged. This Zambian fairly traded honey, for example, has rich, smoky aroma and a dark amber colour.
Honey is imperishable and is also a natural humectant, which means that it attracts and retains moisture. This is good news in cosmetics as it protects the skin and hair, keeps them moisturised and conditioned, while contributing to  the preservation of products formulae.
Lush purchase this honey from Zambia where it's produced by wild bees. They forage in uncultivated forests, meaning their honey is free from pesticides and herbicides. Farmers are paid a fair price and support an environmentally stable supply chain that enables them to sell their honey to Lush, while retaining enough to sell to their own domestic market.
FEATURED
Honey, I Went To Zambia
Rich, sticky honey nourishes the hair and gives it shine. But that's not the end of the story. With extreme beekeeping and handcrafted beehives, the story starts in Zambia.
Barefoot and without gloves or protective clothing, Zambian beekeeper Gibson is scaling a tall tree to reach the traditional beehive that hangs at the top. Amazingly, he looks completely at ease. After removing the hive – a hollow cylinder made from tree bark – he carefully climbs back down to the ground and gently opens one end, reaching down into it to remove a large piece of honeycomb, still covered with the tiny bees.
Gibson is one of hundreds of Zambian beekeepers who collect the honey used in Fairly Traded Honey shampoo and Honey I Washed My Hair shampoo bar. We went to Zambia to experience traditional beekeeping in action and to see how the local people work. "Gibson was completely in tune with the bees," says Lush bee expert, Richard. "He doesn't own them or control them, but acts as the steward and protects the environment they live in."
For many farmers in Zambia's north-western province, beekeeping provides an additional and vital source of income. Widowed beekeeper, Ruthie, for example, has been able to support six children through school and even build her own house from the profits of beekeeping. As green forests cover some 60% of Zambia, the country also has the perfect habitat for wild honey bees. Traditional beehives are built using extraordinary skill and craftsmanship that is passed down from generation to generation, with one tree usually making around fifteen to twenty bark hives. Each of these can be used for roughly ten years, so there is minimal environmental impact. 
The honey sourced from this area is free from pesticides and herbicides, as the bees that make it are collecting nectar from rural, uncultivated forests. It is of an excellent quality and has a distinctive, rich and smoky aroma, lending shine and moisture to the hair. Farmers are paid a fair price for their honey and support an environmentally stable supply chain that enables them to sell their honey to Lush, while retaining enough to sell to their own domestic market.
The perfume in Fairly Traded Honey shampoo is full of the power of flowers, taking inspiration from the forests and flora surrounding the Kabompo River. The sweet, strong scent of the honey has been balanced with delicate rose absolute, geranium and bergamot essential oils. This shampoo needs no added preservatives as every bottle is made up of fifty percent honey, which acts as a natural preservative.
Join the conversation #LushBuying