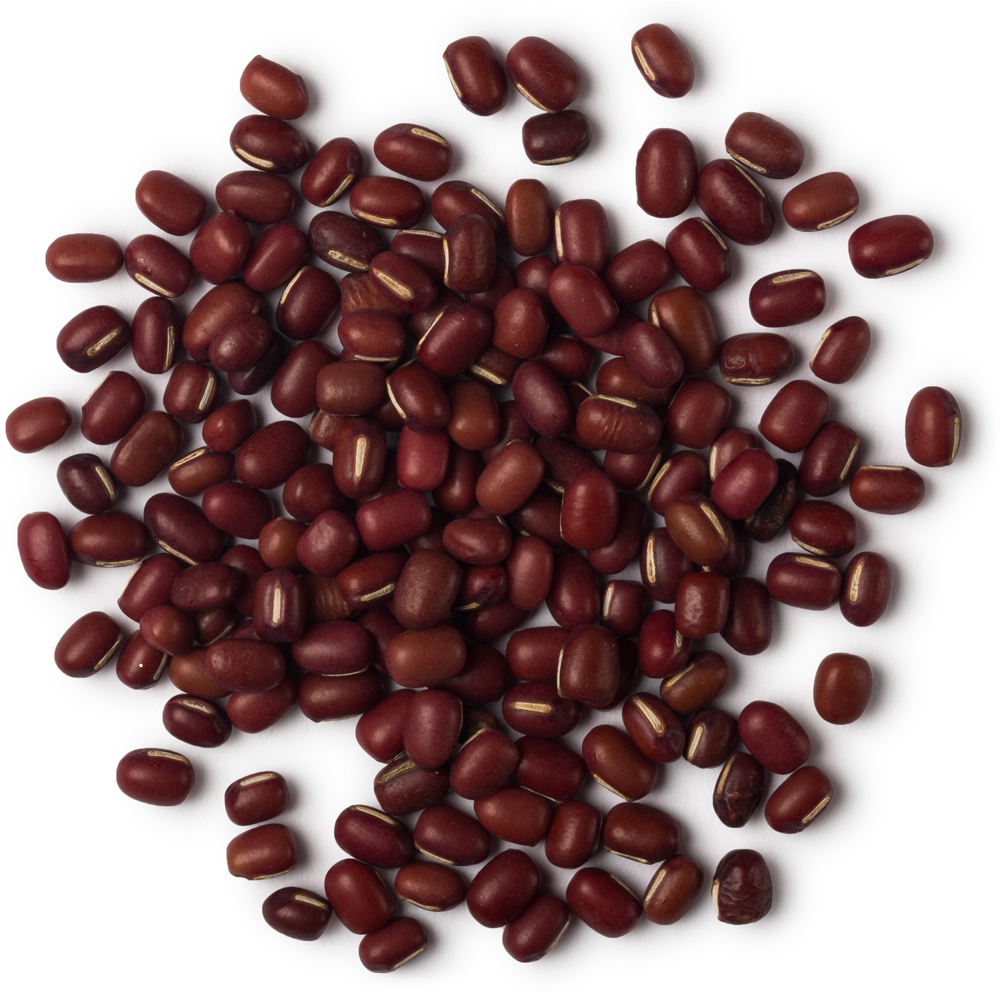 Even though we don't always see them, dead skin cells like to linger on the surface of the skin and can make it look dull. Fortunately, there is nothing that a good rub can't remove, and this is where ground aduki beans prove to be very useful.
Description
From the bean genus (Phaseolus) of the legume family (Fabaceae), the aduki plant grows like a vine and bears pods filled with beans. These can be cooked whole or ground into a fine flour. They have been grown and eaten in Korea, China and Japan since ancient times, and are often called 'king of beans'. 
Lush purchase organically-grown aduki beans from China which are then shipped to the UK to be ground. When whole, they are dark red in colour with a thin white line along the ridge.
FEATURED
Sugar, rice and all things nice
Naturally exfoliating ingredients help to keep your skin soft, smooth and glowing…
Regular, gentle exfoliation will get your skin glowing all year round. That's because a combination of dead skin cells, natural oils, make-up and everyday grime can clog pores; removing these helps your skin to look brighter and feel cleaner. 
Sophie Rae-Martin from the Lush Spa Team says: "Our skin is in a constant cycle of renewal; we continuously create fresh new skin cells and shed the old. Exfoliation will encourage this process by removing the top layer of dead skin cells, revealing the new skin beneath."
Exfoliating helps to clear away all this dirt and debris, revealing the smooth skin underneath. As a result, your moisturiser will be more easily absorbed, and your make-up, if you wear it, will apply more evenly.
Fresh face
There's no need to use an exfoliating product every day (unless your skin really likes it); find out what your skin likes to find the right balance for you. You could simply add some extra oomph to your daily skincare routine by removing your usual cleanser with a soft flannel or muslin cloth which has been soaked in warm water. This works especially well with a gentle balm cleanser, such as Ultrabland.
Alternatively, naturally exfoliating 'gritty' ingredients will give skin a gentle but effective scrub as you wash your face and body. Herbalism contains rice bran and ground almonds, Dark Angels is made with charcoal and black sugar, and Let The Good Times Roll is packed with polenta, to keep skin soft and clear.
If you're worried that your skin is too sensitive to scrub, face masks containing natural fruit enzymes break down dead skin cells while you lie back and relax. Jelly Mask Just to Clarify is full of papaya juice and bamboo stem extract. These help to remove dead skin cells, giving you a soft and smooth complexion. Other fresh face masks contain gritty ingredients that smooth the skin as you scrub the mask off. BB Seaweed contains millet flakes, Don't Look at Me has loads of ground white rice, and Oatifix is made from an exfoliating base of oatmeal and ground almonds. A minty multi-purpose back and face pack - Mask Of Magnaminty gently buffs up complexions with evening primrose seeds and aduki beans, while peppermint oil stimulates and brightens the skin for a refreshed glow. When your skin needs a deep cleanse, this mask does the hard work for you with antimicrobial tagetes oil and antibacterial honey.
Ocean Salt is another invigorating cleanser, packed with lime, grapefruit and sea salt. Use it in the shower on your face and body for amazingly soft, smooth skin. It even comes in a self-preserving version for a gentler scrub.
"Gritty exfoliators will definitely have a more stimulating and active effect on the skin, whereas fruit enzymes have a more gentle action," explains Sophie. "Both types will give a good result, it just depends on which suits your skin's needs at the time."
Scrubbing up nicely
It's not just your face that could do with a bit of a scrub from time to time, the skin on your body such as elbows and knees sometimes need extra love and exfoliating leaves your body ready for hydration.
"Exfoliating your body will help to make your skin softer and smoother. Skin will look also look fresher, and have a more even appearance," says Sophie. "Exfoliation also helps to prevent ingrown hairs and increases circulation, encouraging a healthy glow."
Rough with the Smooth is a solid body scrub made from granulated sugar, murumuru butter and black pepper. It's brilliant on bums and thighs, as it gently exfoliates and moisturises while stimulating the circulation to help reduce puffiness.
For an intensive treatment, massage Rub Rub Rub shower scrub onto dry skin before you step into the shower. It lathers up just like a shower gel, leaving you with smooth, soft skin all over. If you like to step out of the shower feeling minty fresh and squeaky clean all over, try Magic Crystals: a tingly blend of buffing sea salt, menthol and Epsom salts that leaves your skin feeling toned, bright and super smooth. If you prefer a dewy finish, then rub a bar of Buffy body butter onto wet skin to exfoliate and condition in a single swipe.
With so many amazing, effective and natural options to choose from, what will you try first? 
Add some extra oomph to your daily skincare routine.