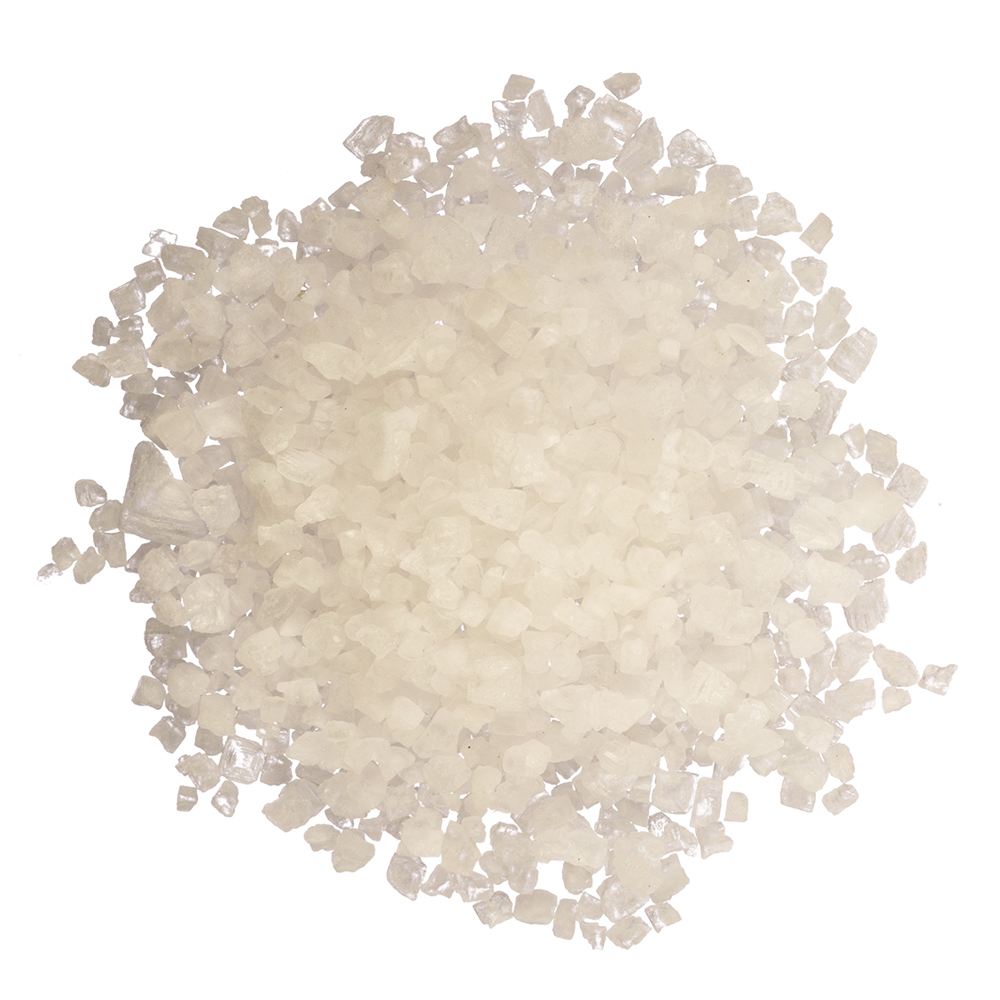 Hand harvested sea salt efficiently cleans, softens and hydrates the skin, removing dead skin cells without stripping away too much natural oil. In hair products, it increases volume and shine of the hair.
Description
Sea salt is rich in sodium, magnesium, and other minerals. Cleansing the skin with products full of sea salt is an excellent way to benefit from these minerals and from natural antiseptic and astringent properties of salt, which also help to brighten the skin by boosting circulation.
Morevover, it is a natural preservative which can help to keep products clean and free from micro-oganisms when used in appropriate quantities.
Lush buys sea salt from four different producers: two are based in Portugal, one in Spain and one in Croatia. All use traditional harvesting techniques, producing high quality salt, while actively contributing to the maintenance of the eco-system surrounding their workplace. Indeed, Salt pans and marshes provide excellent feeding, shelter and breeding conditions for hundreds of species of birds in their migration path. A great wealth of plant life can be found there, with over 400 types of plants.
Due to the global sea level rise and the development of cities, salt-marshes are amongst the most threatened habitats. Buying salt, samphire or dried flowers from these passionate growers support them in preserving this indispensable eco-system.
These crystals are free from pesticides, waste, heavy metals and radioactivity. They are totally unrefined to ensure that all of the natural trace minerals are present to give maximum benefit to the skin.
Swishable hair and soft skin might come easily with Big shampoo and Ocean Salt face and body scrub, but a lot happens before they get to your bathroom. The sea salt story starts in Castro Marim, on the south coast of Portugal.
António José doesn't look 65, and we like to think his skin has been softened and preserved by the sea salt he harvests by hand. It's high tide on a summer's day - the perfect conditions for harvesting sea salt. First of all, nature works its magic and sends seawater into the wash of the Guadiana River, flooding the marshland of the reserve. Enter António, who guides the water through connecting channels into salt pans, creating shallow pools. The heat of the sun evaporates water from the pools and salt crystals begin to form. Dense, heavy crystals drop to the bottom, ready to discover their destiny as Big shampoo, while finer salt is sieved off the top and eventually makes its way to Ocean Salt scrub.
António drags the salt to create pyramids next to the pools, and while it dries in the midday heat he gets himself out the sun for a while. When it's ready, he bags it all up and loads it for delivery, running up the bank carrying a 25kg sack of salt on his head. António usually does all this work by himself and he looks after 270 crystallisers over a five hectare area. It's little wonder he's so well respected by the local community.
This salt shepherd has had plenty of time to master the traditional methods used by his family for years, the best way to be kind to the surrounding environment and nature reserve. He's surrounded by a wealth of fish and birds, which thrive in the Specially Protected Area (Birds Directive) and Wetland Area protected by the Ramsar Convention (1971).
The company António harvests also works to protect and sustain the salt marshes of the western Algarve, Portugal. Birds including greater flamingos, spoonbills, black-winged stilts and many species of ducks use the salt marshes as wintering grounds while whimbrels and curlews rely on the site as a resting place on their migratory journeys. Storks also find suitable nesting spots here - a relief to locals who see them adopting pylons as substitutes in the surrounding area.
Preserving this beautiful and important coastline is essential to the wildlife flourishing here and the generations of salt shepherds to come.
The waters here are clean and warm, yielding salts which are bright white and rich in minerals.