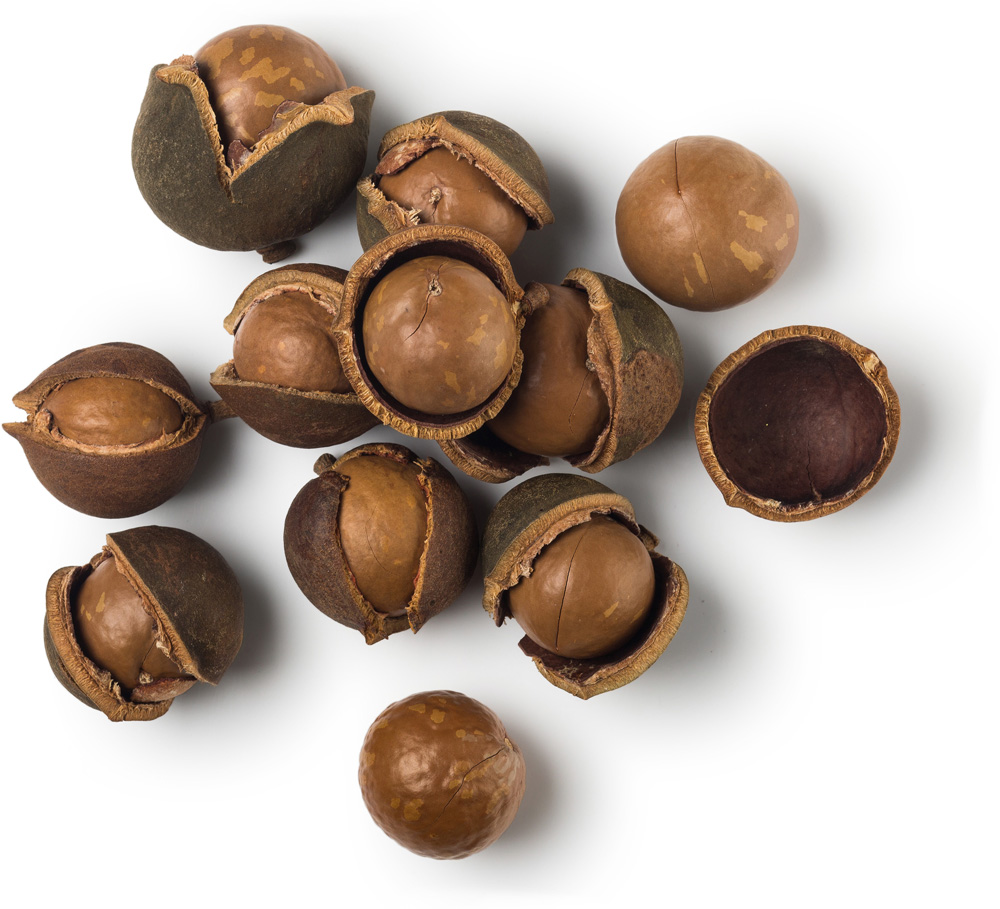 Moisturising and protective
Macadamia nuts are made of about 70% oil, which gives them a creamy and buttery texture. Containing large amounts of oleic and palmitoleic acids, this oil is ideal for moisturising and rejuvenating the skin, as well as for protecting and smoothing the hair, and improving shine.
Description
Macadamia ternifolia is a tropical evergreen tree native to the coastal rainforests of Australia. The trees produce an abundance of fragrant white or pale pink, flowers, each of which may mature into up to twenty fruits. When mature, the leathery outer shell splits, freeing the hard-shelled, rounded nut.
This macadamia oil is extracted from nuts grown without any chemical pesticides in Central Kenya.
Stirring in the gentle breeze, a delicate white blossom envelops a tree that spreads its canopy wide and low. Across the plantation, most of the flowers are already gone, revealing glimpses of pale green and brown clusters of pea-sized nuts hanging like grapes between the foliage. As far as the eye can see, the land is planted with over 20,000 trees nurtured to provide macadamia nuts throughout the year in addition to the main summer harvest.
Grown without chemical pesticides, this 300-acre plantation site is one of several sources used by our macadamia oil manufacturer in central Kenya. Although buying as much as available from local small farmers (who often also supply avocados for our oil) the nuts are so much in demand that they also use this large plantation to ensure they can meet this need.
Macadamia trees should be grown on ground kept clear ready for people to collect the nuts by hand when they are fully grown and they fall from the trees. Some will pop out of their hard husks as they fall, and some will need to be cracked open by a machine, or by beating them with a heavy pole. They benefit where there is good diversity of crops in an area though, because other flowers bring pollinators to the area meaning more macadamia blossoms are likely to grow into successful nuts.
Once collected, the nuts are then taken to the specialised processing unit which is the hub of our processors production. Some 35 permanent staff work in this unit, with around 20 more brought in as work demands. If the macadamia nuts arrive still in their husks, more than 100 extra women come in to apply their nimble fingers to picking out the kernels. 
When the macadamia kernels are prepared, and a sample test has been approved according to the organic standards, the bulk is brought in and put through a large processing unit, where they are heated between 60-80°C to soften them. They are then cold-pressed, filtered, and stored, and re-filtered whenever a batch is required, before being sterile sealed to ensure there is no remaining oxygen in the drums, which might taint the oil over time. 
The macadamia nuts give around 50% oil and create no waste, since the redundant residue 'cakes' created during oil production can be used for animal feed, and the husks are burned to fuel machinery at the processing site. This transparent yellow, slightly nutty oil is used in many of our products, as it has antioxidant properties and works well with the skin's natural oils, making it a perfect light moisturiser.
Nearby, the flowers are already gone, revealing glimpses of pale green and brown clusters of pea-sized nuts hanging like grapes between the foliage.