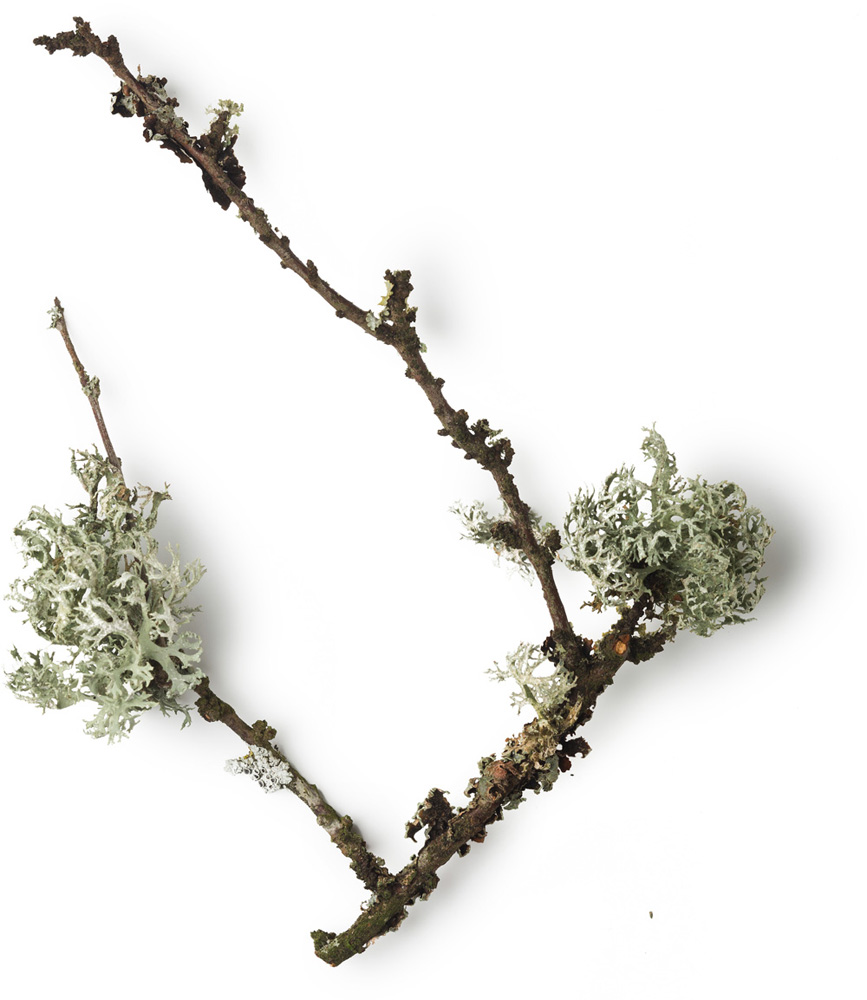 Mystical, mossy fragrance
Oakmoss is a dark green lichen with a beautiful forest-like, mossy aroma. It is used in perfumery to add deep, earthy tones to a fragrance or product.
Description
Oakmoss is a species of lichen, that usually grows on oak trees but also on fences, walls, rocks and soil and can be found throughout central and southern Europe. Lichens are mysterious and fascinating, they are different types of organism living in symbiosis, and we still have a lot to learn about them.
Oakmoss absolute and oil form the basis for the chypre fragrance family and are also popular in oriental perfumes. It blends extremely well with earthy and floral essential oils such as patchouli and jasmine, as well as citrus fruits and vetivert oil.
The way to obtain the absolute is a bit different from the traditional method as the lichen needs to be wet and heated first, using steam. Then, it goes through the usual process: the damp moss is transferred to the extractor for several hours where it's washed with a solvent called hexane. After some time oakmoss concrete is produced which is then turned into the absolute, during the final stages of the manufacturing process.
FEATURED
Storytelling with perfume
Stories don't always start with 'Once upon a time' and end neatly, in a linear fashion. Sometimes they begin with a hypnotising top note and end in a curious smokiness, unearth the controversial and end in a question, not an answer. The artful perfumer can tell a story in shades of tart blackcurrant and Sicilian lemon, coupled with the alchemy of your own skin. Strip away the commercial aspect of perfumery - the heavy reliance on synthetics and saccharin celebrity-endorsed bottles - and you are left with the personal.
Lush perfumers Mark and Simon Constantine take inspiration from their travels and illustrate the stories of the places they've visited and the people they've met. Sometimes these narratives are gritty and raw; a complex but compelling perfume material. Hues of burnt pallet wood and gasoline paint a portrait of homelessness in Dallas, while bitter orange and Damascus rose evoke the flight of refugees from Lebanon.
"All of perfumery is language", says Mark. "It's learning how to put a word to a smell. The minute you put a word to a smell, you have a memory for it. Poetry and beautiful words are a pleasure to be around. They're like beautiful oils or products. Perfumery is an expression of things that have happened to us, or things we feel emotionally attached to."
Son and fellow perfumer Simon agrees: "We've got this family trait of being terrible musicians. Finding a way to express yourself is difficult, and perfumery seems to have been co-opted by these big corporations and turned into this commercial vehicle. It was nice to think 'We can do this'. No one's out there's trying to do perfume artistically."
Perfume portraits
For both, perfume is intensely personal, and one of the first fragrances Simon released for Lush was made for his baby daughter. "Imogen Rose is about purity," he explains. "I really wanted to capture the scent of roses in the fields. Having travelled to Bulgaria and Turkey where they grow the roses, I never really feel like you get the same smell when you pick up a rose perfume in the supermarket. I wanted to combine the rose in the fields with what it feels like to have a baby girl. The baby talc, soft-skin smell." Years later, daughter number two Amelie Mae would demand her own personal perfume made with raspberry, roses, lavender and flowers.
Mark has also created portraits in perfume, several to his father who left home when he was a child. Dear John - a complex blend of tobacco, coffee and lime - is an ode to his idea of what a father should be: comforting, warm and reassuring. He explains: "It took several years to perfect, starting life as a simple accord between pine and lime oil, then passing through a period of time as 'wake up and smell the coffee' and then with the work suddenly getting more personal. Dear John smells manly, truly manly, as in a man who cares, looks after those he loves and has confidence. I suddenly realised this was the way that I thought my father would have smelled. This was the perfume that gave me the assurance to call myself a perfumer."
Years later, after a reconciliation and his father's sudden death in South Africa, Mark felt compelled to create a fragrance in his name once more. He explains: "Dad's Garden – Lemon Tree started off with my Dad dying and me coming back from his funeral with leaves from his garden to make a perfume from. I'd only known him six weeks. I didn't know quite how to express myself so I made that perfume."  It's a bittersweet elegy: the tartness of the lemon and lime sharp but sweet on the skin. "
Other hurts have also found their way into Mark's perfumery. Over And Over, for example, a zesty, vibrant lime and bergamot blend is actually a reflection on a friendship turned sour. He explains: "It's got lime oil, and bergamot oil, and fennel and cypress because they've got a hell of a kick. And then coriander because this person repeats things over and over again and is very boring and so's coriander. Then I put in two synthetic perfume materials, which I think are snide. And orris because that gives a thin veneer. It's still a nice smell though, which is the problem with it."
Raw emotions, raw ingredients
In a market flooded with cheap synthetics, Simon's experience of ingredient buying within Lush has propelled the perfume range forward as an antidote to insipid, mass-manufactured fragrances. "A pricing race to the bottom means that the fancy bottle you buy in an airport duty-free store is often the most expensive part of your purchase," he explains. "The pale liquid inside that bottle is a mix of cheap synthetic chemicals that are nature's photocopies, bearing little resemblance to the original. These chemicals are useful in moderation, but the modern perfumer's dependence on them to cut costs means that most mass-market perfumes are thin in odour and in creative expression."
In contrast, Mark and Simon's use of the finest essential oils evoke our primal responses to plants and flowers used medicinally and in aromatherapy for centuries. And without an over-reliance on synthetics, Lush perfumes may smell different to high street versions touting the same ingredients.  "Both Dad and I enjoy using 'dirty' materials", explains Simon, "from erotic jasmines to smoky vetivert and sandalwoods. Much of what attracts us to perfumery is the hidden access to the subconscious through using complex natural essential oils and absolutes."
Take Orange Blossom, for example - a distinctive perfume Simon made after they both visited the Mediterranean for a holiday. "This orange blossom is made up of neroli which is the bitter orange tree and sweet orange too," Mark explains, "but with the sweet orange you get this still note which is a bit rough. And that's what's in this perfume, a little roughness, which I like. Rough around the edges. It would be very easy to make an orange blossom that's very vanillary but this isn't. It's because we use so much orange absolute which is unusual because it's got a very characteristic note. Usually, people soften it down."
Cocktail - an ylang ylang, jasmine and rose ode to French perfumery - is one of his personal favourites to illustrate the power of essential oils. "You have no barriers against perfume," he says. "If it smells really special you're stuck. If you get a really good perfume like Cocktail, it's so powerful, it's almost got you by the whatnots and you've nowhere to go.
"The thing I love about natural perfumes is that I use them to illustrate why people must always wear a perfume on their skin to experience it properly. I can put Cocktail on ten people and guarantee that it will smell different with it on. I put it on one girl and it was the best smell I've ever, ever smelled in my life. That's stayed with me and I'm still having therapy for that."
Personality meets practicality
Yet when it comes to selling perfumery, a love of the materials and process is not enough, as Lush perfumer Emma Dick explains. "If a perfume's going into a product," she says, "I need to consider how it sits. It might have all these beautiful citrus top notes but they're going to disappear in a product so I need to build out a base."
With a background in essential oils buying, Lush perfumer Emma Dick regularly relies on her knowledge of these ingredients - and her taste buds - to create her perfumes. She explains: "When I made Plum Rain, I ate a whole punnet of plums. I like to think I'm quite good at replicating the taste of something in scent."
It's also about working with abstract concepts and feedback. "How do I know when a perfume is finished?" she asks. "It's going to sound strange but when Mark sniffs something he sees it in shapes. When I sniff something I see if in colours. So Mark will smell something and say "it's too tight" or 'it's lacking a base" but I'll know what he's talking about."
She agrees that emotion is key to making perfumery: "As long as you feel something, whether you're angry or happy, something good will normally come out of the process. Smell is one of the most powerful senses. You can catch a whiff of something in the air or the scent of a product and immediately have an emotional response to it."
Simon agrees. "Perfume has the unnerving ability to skip past our emotional defences and to access memories and feelings long thought buried. If you strike the right chord (or accord, in perfumery jargon), you can bring back a dearly departed loved one or a childhood moment lost in the recesses of your subconscious. It is an extremely powerful medium, more so than any other art form, I believe. Maybe it is this that prevents us from creatively exploring scent further. Is it too real?"
The Liverpool store features The Perfume Library, with 29 additional fragrances nestled amongst the current range. With classic re-releases from the past and newly constructed masterpieces, you can explore the rannge here.