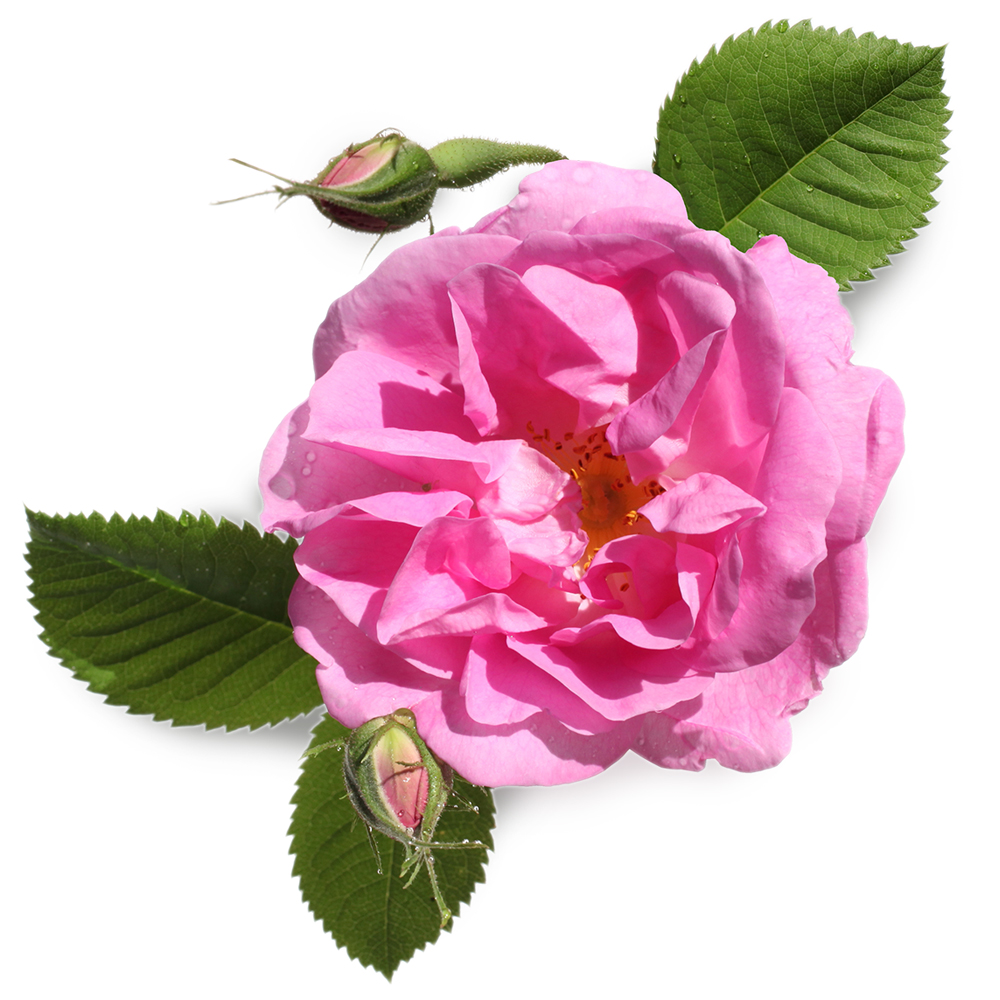 Rose absolute is used for its soothing, rejuvenating and toning properties on the skin. Its evocative, delicate fragrance lifts the mood and is thought to be closest to the smell of a fresh rose.
Description
There are more than 16,000 varieties of rose in the world today, but the Damask rose is one of the most ancient, widely grown variety. Thought to be native to the Middle East, rose water and rose oil were used for centuries to fragrance and heal scars.
The scent of rose is used by aromatherapists to restore inner balance and is considered by some to be an aphrodisiac.
A collaborative effort between Pakistani farmers, a Turkish rose grower and Lush, this absolute is produced from Damask roses grown in Pakistan without pesticides, thanks to permaculture techniques. The rose petals are going through a solvent extraction process to produce a fragrant paste called 'concrete' which is then transformed into rose absolute in Turkey.
FEATURED
Regenerative rose absolute: A budding new venture in Pakistan
"Let's do it again, like it used to be done!" says Agnes Gendry-Hearn - buyer at Lush - on the topic of regenerative rose absolute production.
Rose absolute is a coveted perfume material which is also known to help soothe and rejuvenate the skin - just two of the reasons Lush use rose absolute in a wide variety of products. Recently, Lush, a partner in Pakistan, and the Turkish rose supplier we have sourced from for years, have established a joint venture to grow rose without the use of chemical fertilisers and pesticides. Agnes explains: "The goal is to understand the growing and production of the flowers. It is the next step in our journey of buying."
The absolute produced from the local rose in Pakistan differs from the rose produced in Turkey, which is our main source of rose absolute currently. It contains very low levels of one of the naturally occurring constituents regulated by the Environment, Food and Rural Affairs Committee.
Farmers in Pakistan have been growing roses using chemical fertilisers and pesticides and this joint venture aims to encourage a return to traditional, organic practices which ultimately benefit the land and the growers. The area surrounding our rose absolute production site is predominantly occupied by fields of potatoes grown in a vast monoculture. Pakistan is overwhelmed with excess tonnes of potatoes which cannot be sold on a saturated market. Apart from encouraging existing rose growers to abandon the use of chemical inputs we are also aiming to show the potatoes growers that they can grow other crops, like rose and jasmine, without the need for expensive chemicals and with the guarantee of a better income.  
"We are going to use a two acre piece of land as a demonstration site for the growing of those two crops without any chemical inputs based on permaculture," explains Agnes. "We are trying to demonstrate mixed cropping and the way it enriches the soil and fixes nitrogen. We have an agroforestry expert who has visited already and we are all working very closely together.
"The preparation for the site started in spring 2019 and planting will begin a little later on. The farmers will spend the day with the person who runs the site and they will be shown the techniques that we use. We will ensure there is a continuous program so the farmers can see the improvements made on a regular basis. They know all of these traditional methods; we are just showing them what we are doing and reminding them that expensive chemical inputs are not necessary. The site also aims to demonstrate the intrinsic value of traditional agricultural methods."
In 2018, Lush completed construction on the factory in Pakistan in order to process the roses into a concrete where they could be transported to Turkey to be turned into an absolute. This new factory has offered great opportunities for employment for local young people and provides training in new and exciting extraction processes to create rose absolute. The goal is really to set up a sustainable business and we consider this to be a long-term project.
Agnes says: "The next step will be to put the finishing equipment in as the venture continues to grow and evolve in the future. There are a lot of flowers in Pakistan but they are not used for the production of essential oils; they are used for ornamental flowers and traditional flower garlands. At the moment the farmers are selling their flowers by the kilo. As part of that they are expected to thread the flowers into garlands. We are paying more than the price the farmers were paid per kilo and we are not asking for any labour to be put into the production of garlands. This is positive for the level of income that they can make."
The rose absolute from Pakistan has already made its way into some of our most beloved products and its use will expand to more products as our production in Pakistan increases. Agnes - and Lush - are hopeful for the future of this venture and aim to work closely with these farmers to ensure a strong benefit to the communities and the environment.
Feeling floral? Find a fresh rosy favourite here.
Words by Michael Allsop
Images embedded within article taken on-site by Agnes Gendry-Hearn