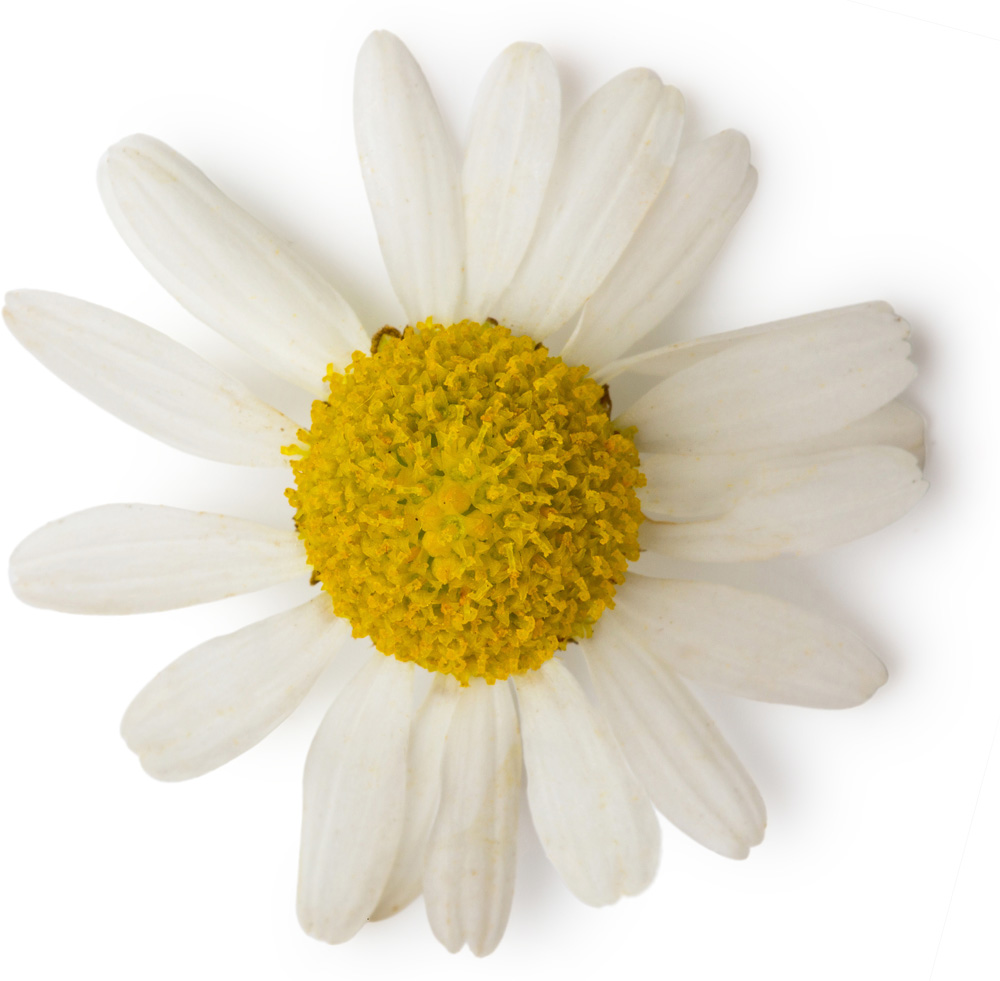 One of the most soothing essential oils, Chamomile is a great anti-inflammatory helping to improve the condition and appearance of the skin, hair and scalp. It's scent has a calming effect on the mind, helping to relax the body and settle emotions.
Description
Traditionally used in aromatherapy, the oil is blue in colour. The most commonly used varieties of chamomile are Roman chamomile (Anthemis nobilis) and German chamomile (Matricaria chamomilla). Roman chamomile is an evergreen perennial plant with aromatic leaves. In summer, long stalked, solitary flowers are produced, with creamy white or yellow discs. The flowers are collected when they are in full bloom and used fresh, frozen, or dried. Chamomile essential oil is extracted from the flowers via steam distillation. Chamomile can also be used to make an infusion or decoction, chamomile flowers are added to boiling water and the mixture is strained - this infusion can be added to products designed to give soothing effects.
The flowers lose 80% of their weight during the drying process, so a full hectare of flowers must be picked just to fulfil Lush's annual order
Roman chamomile, also known as anthemis nobilis, is a special variety whose sturdy stems give fancifully fragranced flowers for a few weeks each year. These flowers, which resemble densely petal-packed daisies, are collected each summer when they are in full bloom and can be used fresh, dried, or distilled for essential oil. At Lush we extravagantly adorn each Karma Komba Shampoo Bar with a whole bloom. They are also an important ingredient in our Marilyn hair treatment for blonde hair, as the flowers have a lightening and brightening effect.
We've been buying highly-prized Roman Chamomile from the North-Western region of France since 2013. The farmers have been growing flowers for generations, and honing their expertise to obtain the best quality and high volumes. They now harvest over 50MT of fresh flowers each summer, working hard to nurture the crop and protect each blossom to achieve a beautiful essential oil as well as the brightest and prettiest flowers.
Roman chamomile is very special in that the blossoms hold on to their petals after drying, which means they can be transported in bulk without too much damage, and they even retain their fragrance for a long time. After planting in October/November, the flowers are harvested from all fields in July/August. We buy dried flowers to adorn Karma Komba shampoo bar and to use in the subtly brightening, sweet-scented flavour potion at the base of Marilyn hair treatment. The flowers, which have a sweet, herbaceous fragrance, lose 80% of their weight during the drying process, so a full hectare of flowers must be picked just to fulfil Lush's orders each year.
The flowers need to be carefully picked so as to avoid compromising the yield with stems or soil. During the harvest season the farm requires 10 people to pick the flowers, 20 more to separate them into different grades/qualities, and a further 10 to look after the drying or processing them for oil.
After picking, our flowers are dried in one-tonne mounds in a specially-built warehouse, where they are piled around 30cm deep on a raised mesh floor. The flowers need to be dried quickly in order to preserve their beautiful fragrance, so warm air is fanned in under the mesh floor and the blooms are turned over with long-pronged forks.
Flower production is an important part of the French rural economy and there is a community culture among farmers in each district. Because growing roman chamomile takes a lot of nutrients from the soil, our farmers work with their neighbours to interchange food crops such as wheat onto the space in certain years, so as to repair the soil while still receiving produce from the land, rather than just leaving it fallow.