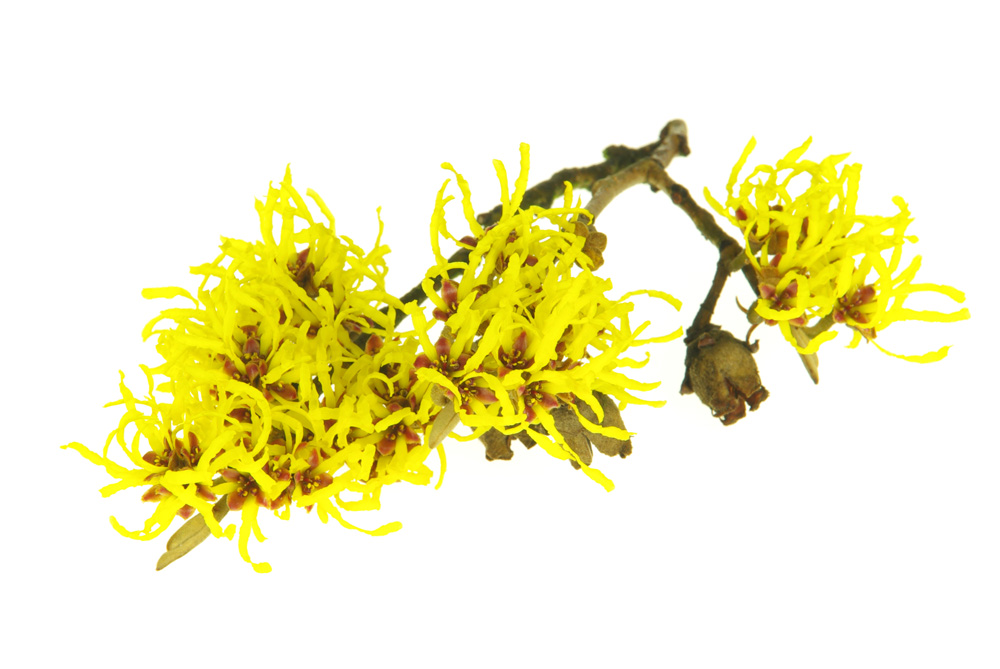 Witch hazel is astringent and ideal to boost circulation in blood vessels, helping to maintain glowing and bouncy skin. The plant is also thought to prevent bacterial growth and to soothe the skin.
Description
The common witch hazel is from the Hamamelis family and is native to North America with oval, jagged leaves that look like the leaves of hazel plants. It is thought that this may be how witch hazel got its name even if the two plants have no relation.
The plant produces clusters of vivid yellow flowers in the autumn, appearing while the previous year's seed pods are reaching maturity. The pods contain two black and glossy seeds. Native Americans ate these, even if collecting them can be an occupational hazard because they explode from the shell when ripe. The leaves branches, leaves and twigs are collected at various times throughout the year. They are dried, blended with alcohol for tinctures, or steamed for distillates.
While witch hazel infusion is done by adding the twigs and bark of the plant to hot water, the extract is sourced from France and distilled from the same parts of the plant, bringing its powerful antibacterial, anti-inflammatory and astringent properties to various products.
FEATURED
It's only natural: How are solid deodorant bars made?
Solid, natural deodorant bars offer an eco-friendly, gentle way to keep you smelling fresh. But what goes into making them? Of course, they're full of fresh ingredients, but do you know how they turn everyday ingredients into bars of deodorising goodness? You deo now!
How it's Made: Aromaco
Aromaco solid deodorant is a packaging-free alternative to roll on deodorant. But did you know it is made using the hot pour technique just like Lush soaps? You do now.
First, super-absorbent and antibacterial sodium bicarbonate is mixed with hot water and propylene glycol - this gives it a silky texture and helps to deliver ingredients to the skin. When this is all blended together sodium stearate is added to help set the soap after it has cooled. While it does, witch hazel is poured into the mixture for its drying, cooling effects on skin.
Now it's time to add antibacterial chamomile vinegar. This creates a mild reaction in the mixture because the alkali nature of the sodium bicarbonate balances the acidic vinegar to create a product the works in balance with your body's natural functions while gently controlling bacteria growth.
Finally, the patchouli fragrance is added while the mixture is still warm. It is then poured through muslin into moulds to set.
How It's Made: T'eo
Making T'eo solid deodorant bar is no easy feat, and it can take up to eight people to make a 100 kg batch.\
First, a fragrance made up of deodorising tea tree, lemon, juniperberry and lemongrass oils is mixed with moisturising apricot kernel oil and freshly blended green grapes. This is then poured into a blender with the rest of the ingredients, including super-absorbent magnesium carbonate. Once this process is complete the clock is on and Compounders (the experts who make the products) have to quickly prepare the moulds with decorative cornflower petals and pour and press the mixture into them so they can set.
This is a job for the whole team - and the entire powders department is called onto the floor to individually hand press each deodorant bar. It is a race against the clock - they have two hours before the mixture dries.
The fresh T'eo deodorant bars are then left overnight in their moulds to set, before they are hand dipped in blue wax on one side to make them easier to grip and use.
Within 3 hours the new T'eo deodorant bars are ready to be packed, shipped and deodorise pits all over the world.