Dark Angels
Fresh Cleanser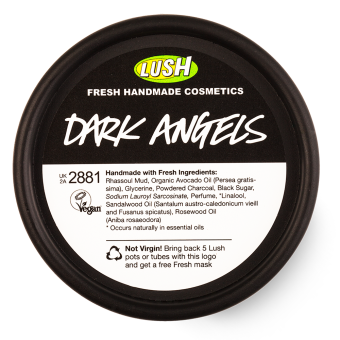 This is for those of you who really like to scrub your skin to feel clean, with black sugar and charcoal to exfoliate, and rhassoul mud to deeply cleanse. We also use cold pressed avocado oil and vegetable glycerine to moisturise and soften your skin after all that scrubbing, leaving your skin feeling balanced and fresh. Sandalwood and rosewood oils give a rich, earthy fragrance and have a cooling and antiseptic effect on the skin. We buy our powdered charcoal locally in Dorset. It's a great way to exfoliate and is deeply cleansing, whilst black sugar is in here to scrub away any dead skin cells, leaving you with bright, refreshed skin. 
List of ingredients
Sodium Lauroyl Sarcosinate

Black Sugar
Natural Ingredients
Safe Synthetics
*occurs naturally in essential oils.
We do not test our finished products on animals. We also only purchase from ingredient suppliers who do not test on animals. More.
Most Helpful
7 / 7 people found this helpful
MamaWolf
About 2 years ago
The first time I used this, I admit, I was sceptical- I mean, the stuff's black for a start. But, blimey!

Read More
Top Rated
5/5 stars
kwajarebecca123_6870767
About 2 weeks ago
the first lush cleanser I have used and is very gentle on my sensitive skin
Latest
3 days ago
jasminnnn
About 3 days ago
i've literally just used it for the first time about 10 minutes ago. tbh, i was pretty excited (especially after reading the ingredients) + put it on my face. as it's a first go, i kept it on for like 5 minutes to see a full effect. however, similarly to other people, it had stained my skin. which was really annoying and meant i stood there for like an extra ten minutes trying to get it off, which sucked and i panicked a bit bc i really didn't want black skin. however it's come off, but my skin is really red now bc it's sensitive + all the scrubbing made it red.
Read More
Most Recent
Most Recent
Most Helpful
Top Rated