Let The Good Times Roll
Fresh Cleanser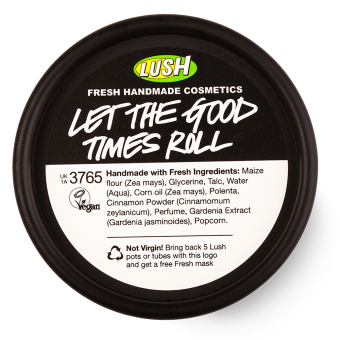 This face and body cleanser is a gentle treat for the skin, leaving you soft to the touch with a buttery popcorn fragrance. Maize flour and polenta gently exfoliate, whilst cinnamon powder stimulates and leaves you feeling fresh and revived, with beautifully soft skin. This gentle yet scrubby cleanser will soothe and soften your skin, giving it a natural glow.
List of ingredients
Natural Ingredients
Safe Synthetics
*occurs naturally in essential oils.
We do not test our finished products on animals. We also only purchase from ingredient suppliers who do not test on animals. More.
Most Helpful
16 / 25 people found this helpful
strawberry123
About 5 years ago
I have been using dark angels on my skin for months, it is great too but it felt a little too strong for me as I have quite sensitive skin so I thought I would try something new. This product smells good enough to eat (I did try but it doesn't taste as good as it smells!) and is very moisturizing and gentle. I prefer the cleansers because to the face-masks because they last for months and you don't need to put them in the fridge which is such a hassle! Anyway, it is the best cleanser so far!

Top Rated
5/5 stars
Stels Minx
About 3 weeks ago
I'm in love with this product! It feels great on your skin and the smell is AMAZING! You can smell it for ages afterwards. I was so pleasantly surprised with this product! ❤️
Latest
2 days ago
Linda Babkirk
About 2 days ago
I have purchased this in Osaka, Japan, Barcelona, Spain, online from Madrid and now from the UK. I thought ALL of LUSH was made to the same standard. Not so. In Osaka and Barcelona the popcorn was placed on top so it could be easily removed. Online from Madrid, there was no popcorn and now from the UK the popcorn was completely mixed in. So, much so that I thought there was none until I used it and the popcorn hulls cut my face. The quality is different from place to place also. Sometimes coarse and sometimes very fine. I really wish it were all the same.
Read More
Most Recent
Most Recent
Most Helpful
Top Rated