Ocean Salt Self-Preserving & Alcohol Free
Face and Body Scrub
Limes steeped in glycerine, grapefruit and lashings of salt go into this invigorating face and body scrub - now in a self-preserving formula.
The salty, citrus fragrance is refreshing on the skin and mind, like diving into the cool blue ocean. Sea salt is rich in minerals and excellent for scrubbing and buffing skin.
We also added rich, silky avocado butter, coconut oil and seaweed absolute to keep your skin soft, smooth and conditioned. But why choose self preserving?
This formula contains only natural preservatives to keep itself clean and safe to use. Salt, as well as being a kick-ass cleanser and exfoliator, is an age-old preservative and prevents bacteria from growing and reproducing if used in high enough concentrations.
What's more, this exotic scrub is vegan, thanks to the silken tofu and japan wax that help bind the mixture together. The added butters and oils in this self preserving formula help to make it feel a tad more delicate on the skin than its preserved counterpart. You may prefer to use this on your face, and Ocean Salt Alcohol Free Preserved on the rest of your body - the choice is yours.
kitty.hutton_5362266
About 3 years ago
If you like a good quality scrub about once a week? If you do this is the perfect thing for you it removes dead skin and many other lose skin partials plus Bactria. It lasts forever I love it it's amazing and it's ideal for a quick shower or Evan a long soak I would highly recommend this !!!!!!...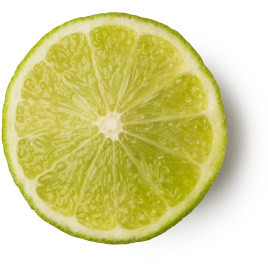 Fresh Organic Lime Juice Extracted in Glycerine
List of ingredients
Fresh Organic Lime Juice Extracted in Glycerine
Natural Ingredients
Safe Synthetics
*occurs naturally in essential oils.
We do not test our finished products on animals. We also only purchase from ingredient suppliers who do not test on animals. More.
Most Helpful
2 / 2 people found this helpful
Sian.Brigham
About 2 years ago
Use this once a week on face and arms, clears up any breakouts and leaves skin feeling really soft. Can totally recommend it.
Top Rated
5/5 stars
miss bamboo
About 4 months ago
Absolutely love OS, it's in my top 5 Lush products. It gives a good scrub, which is fine for my combination/slightly sensitive skin. I recently discovered using it on a cellulose face sponge does a much better job than fingers. Just scoop a tiny amount out with the sponge and exfoliate away! I find it lasts longer this way too and doesn't dissolve the salt crystals too quickly. One word of advice: after you've applied it to your face and scrubbed, rinse relatively quickly or it'll start to sting...yeowch!
Latest
3 months ago
IrClaire
About 3 months ago
While I adore the outcome of this product, it is definitely not for anyone who is averse to heavy alcohol scents. However, they do provide an alcohol-free version which I intend to try. It is not drying, as one would expect from salt, and works akin to the salt scrubs you get from many other brands, but with less abrasion to be felt. Consistency is more watery than one would like when handling it within a shower, so best to dry your hands slighty before use.
Most Recent
Most Recent
Most Helpful
Top Rated