Daddy-O
Shampoo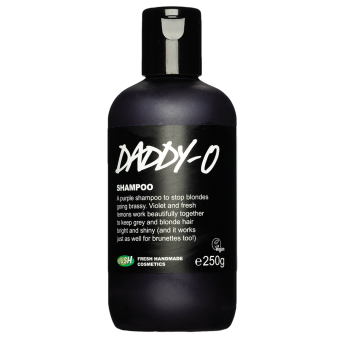 Daddy-O works to add volume and shine to your hair. It's the lemon and organic lime juice which allow the cuticles to lie flat and reflect more light, helping the hair to shine. We've created an infusion from toothed wrack seaweed and organic lemons, that cleanses and softens. Extra virgin coconut oil hydrates the hair, whilst fine sea salt gets to work by to softening and giving body to your hair. What makes this extra special is that it can revive your silver and blonde tones. 
List of ingredients
Natural Ingredients
Safe Synthetics
*occurs naturally in essential oils.
We do not test our finished products on animals. We also only purchase from ingredient suppliers who do not test on animals. More.
Most Helpful
39 / 72 people found this helpful
CurlyGirl
About 4 years ago
Nice smelling purple stuff! The colour is a bit scary to begin with as you wonder what colour your hair will end up! But no need to panic! Smells like parma violets as has been said previously but I like that. My only negative is that I can't use it frequently as my sensitive scalp doesn't care for it much, but I get away with using it once a week without a reaction. Gives me an excuse to buy and use more than one lush shampoo!

Top Rated
5/5 stars
Swaggygemz
About 3 days ago
Can not believe the difference this shampoo made in just one wash!! I've been using touch of silver for absolutely ages and this has brought my hair back to my natural colour in one wash!!!!! The smell is amazing too!!
I'm not completely unhappy with this shampoo but I can't say it's really useful to me.
First, some context: my hair is fine/thin, dark, very long and wavy, and oily. I never dye it nor I mean to.
As pros, I would mention the violets scent and that it swill out easily. It also lathers nicely with a bit of water, and the scent last the whole day. Also, my hair dries off quicker than with other shampoos.
As cons, I would mention that my hair gets tangled too easily with this shampoo, my curls fall apathetic and straight, and it leaves my head with some frizz that can be quite annoying.
Read More
Most Recent
Most Recent
Most Helpful
Top Rated