Silky Underwear
Dusting Powder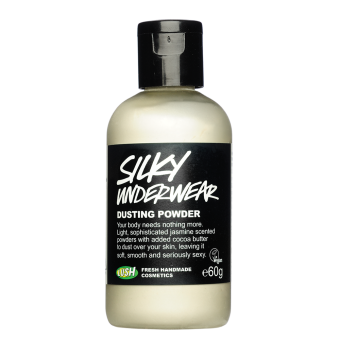 This dusting powder is the ultimate finishing touch; cocoa butter and cornstarch to soften the skin and a sophisticated and sexy yet delicate jasmine and vetivert fragrance. After bathing or showering, shake a little of this moisturising, dusting powder all over your body for velvety soft skin. With a dusting of Silky Underwear, you won't want to wear anything else.
List of ingredients
Natural Ingredients
Safe Synthetics
*occurs naturally in essential oils.
We do not test our finished products on animals. We also only purchase from ingredient suppliers who do not test on animals. More.
Most Helpful
6 / 6 people found this helpful
Vattenstad
About 2 years ago
I love this product. Anywhere I'm worried about excess sweat or chafing (I'm looking at you, thighs...), I just rub some of this on and go about my day worry free. And if it's going to be an intense day, I take a small bottle along with me to reapply. It's also great as part of my drying routine after bathing; some places, like my underbust, just never seem to feel fully dry. A dusting of this and problem solved!

Best of all the smell is lovely but also subtle, so for everyday practical use it doesn't overpower or mingle with my perfume.
Top Rated
5/5 stars
Mjewell1202_2
About 4 months ago
This is a total classic that I sincerely hope NEVER gets discontinued because it is perfect in every way. Perfect for after massage bars and lotions to absorb excess oil, works so well to keep dry and prevent chafing as well as in sheets or general all over application to feel and smell like a silky goddess. The scent of this is DIVINE, a soft, creamy, bewitching gental floral that is my favorite scent Lush has ever made. Lush, PLEASE bring back more in the Alkmaar soap/Silky Underwear scent family!
Read More
Latest
1 month ago
t.sabi2_6907320
About 1 month ago
This is by far my most favorite lush dusting powder. Very easy to use, smells delicious and it feels really soft on my skin. I like to use it before I go to bed because of the soft and soothing smell but it is suitable for everyday use as well ofcourse. I don't even need an additional perfume when I use this. A little goes a long way so the bottle lasts for ages.
Most Recent
Most Recent
Most Helpful
Top Rated