The Greeench
Deodorant Powder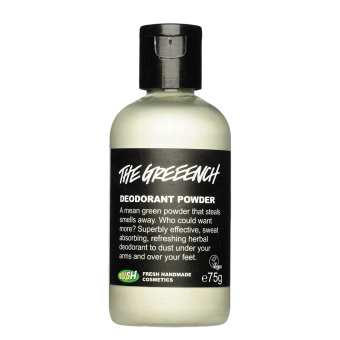 This natural deodorant powder may be green but the herbal goodness packed into it makes it anything but mean. Thyme, tea tree and sage steal away odour and keep you fresh. So don't sweat it! A herby handful of rosemary, sage and thyme unite in true Who spirit to battle bacteria and keep you smelling fresh. This may not look like your conventional deodorant, but rest assured absorbent lycopodium powder will keep your pits dry so you can strut your stuff with confidence. Sprinkle onto the palm of your hand and rub into dry, clean pits. That's it. Simple.
List of ingredients
Natural Ingredients
Safe Synthetics
*occurs naturally in essential oils.
We do not test our finished products on animals. We also only purchase from ingredient suppliers who do not test on animals. More.
Most Helpful
4 / 4 people found this helpful
amy-munro
About 2 years ago
Due to a skin condition I had to stop using spray and roll on deodorants and my first thought was Lush. The Greeench is fantastic, it keeps you feeling fresh and dry all day and my skin has started to feel better since starting to use it :) Application is so quick and easy, I can't recommend this product highly enough!

Top Rated
5/5 stars
Elliepickthall
About 2 months ago
I like this keeps you feeling pretty fresh, and it's good to use all over the body whereas spray on deodorants feel like they're exclusively for underarms? This is quite strong in tea tree smell when first applied which I don't mind but will look for a more neutral scent next time
To say I was sceptical to use this is an understatement but it's great! I bought this in conjunction with Aromaco but found that Aromaco caused irritation. After using this alone I had no problems at all and I've found this works fantastically well on its own. The trick is to use the back of your hand to apply it!
Most Recent
Most Recent
Most Helpful
Top Rated