The Guv'ner
Deodorant Powder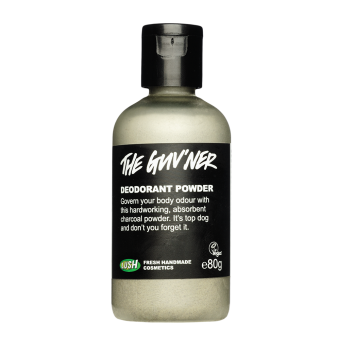 When it comes to body language the absorbent charcoal and lycopodium powders in this natural deodorant make sure yours is saying the right things. Antiseptic sage powder and earthy patchouli combine with soothing calamine and antibacterial lavender powder to control odours and keep you feeling (and smelling) cool, calm and collected. Just dust a little powdered deodorant onto your hands, or apply straight onto clean, dry pits to keep them brilliantly fresh. And don't sweat over white marks, charcoal powder ensures dark clothes stay that way.
List of ingredients
Natural Ingredients
Safe Synthetics
*occurs naturally in essential oils.
We do not test our finished products on animals. We also only purchase from ingredient suppliers who do not test on animals. More.
Most Helpful
57 / 107 people found this helpful
hermanshermits
About 5 years ago
For me, this deodorant does absolutely nothing. Not only does the powder fly around all over the room (it's really difficult to control), it also stains my clothes (not permanently... but it is visible while wearing the deodorant). It does nothing for smell, or sweat, after a while it is like wearing nothing.

Unfortunately, since Lush discontinued Aromacreme I have found no other Lush deodorant that works....

Top Rated
5/5 stars
Katie Moon
About 4 months ago
I like this - I've tried lots of vegan deodorants and they haven't work. It's been cool weather, so summer, if we get one, will test this fully. So far I like it. I have found it okay to apply, once you get it in your palm, it just rubs on. It smells nice and has worked for perspiration.
I have major issues with razor burn under my arms , every time i DARE to shave i always get red, sore bumps under my arms (not ideal in this patriarchal world) . Not only does this deoderant NOT exasperate the rashy mess that is my pits (like everything else I've tried) but it soothes the pain and has noticabley reduced the amount of red bumps i get.

On a different note it -does- leave darkish marks on clothes / your pits but washes off and tbh would take that over itchy sore pits any day
Most Recent
Most Recent
Most Helpful
Top Rated