Enchanted Eye Cream
Eye Cream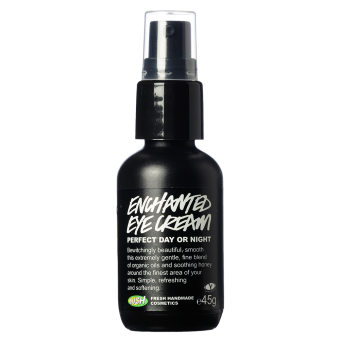 A refreshing, gentle eye cream for the delicate eye area, perfect for day or night. There's no sorcery involved with this wonder cream. An elixir of organic oils and lavender honey water give the delicate eye area a boost, keeping it firm and supple. Gently dab on the line of your cheekbone up towards the brow bone and around your eye area morning and night.
List of ingredients
Natural Ingredients
Safe Synthetics
*occurs naturally in essential oils.
We do not test our finished products on animals. We also only purchase from ingredient suppliers who do not test on animals. More.
100ml
GB Standard
No
33042000
AT Standard (20%)
BE Standard
DE Standard
DK Standard
ES Standard
FI Standard
FR Standard
IE Standard
IT Standard
NL Standard
SE Standard
AU Standard (10%)
PL Standard
MT Standard
Most Helpful
8 / 8 people found this helpful
auntie.depressant
About 2 years ago
I don't usually think much of creams/lotions/potions made for specific areas of the body, as I believe there isn't much one can do to turn back the clock or "repair" ageing skin, but since I use a very heavy cream on my face twice a day, I felt that my 50 year-old skin needed something around the eyes (for one, it helps concealer to apply more evenly), and the face cream I use is way too heavy for the eye area.

Read More
Top Rated
5/5 stars
turrpa
About 3 months ago
This is a lovely eye cream and a delight to use, light to wear and beautifully moisturising. I only wish you did a vegan version.
Latest
23 hours ago
Charlie Brown-ish
About 23 hours ago
Unfortunately this did nothing for me and even worse I am annoyed each time I use it because the bottle squirts uncontrollably each time I press the top. At this rate at least I will have used it up 3 times faster than usual. Not coming out of the store with the receipt is my biggest regret. Try a sample before buying!!!
Most Recent
Most Recent
Most Helpful
Top Rated