Sea Spray
Hair Mist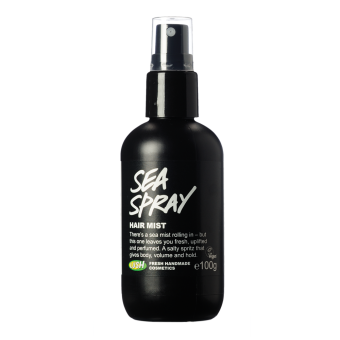 Get that beach hair look with this salty spray that gives a light hold and adds shine, leaving an uplifting, floral scent. Carrageenan, a seaweed extract, together with glycerine work to hydrate the hair. Mineral-rich fine sea salt and sea water give a volumised, beachy hair look, counteracting the flattening effects of soft water. This is then boosted by a simple styling ingredient called PVP, which is water soluble, so is easy to wash out.
Use on roots when hair is wet and then dry to lift hair at the root for big hair, or use all over the hair to create a glossy 'beach hair' look. You can also spray into wet hair and leave to dry naturally. When using on dry hair scrunch the hair as you go to create a more messy look and spray at the roots to create volume.
List of ingredients
Natural Ingredients
Safe Synthetics
*occurs naturally in essential oils.
We do not test our finished products on animals. We also only purchase from ingredient suppliers who do not test on animals. More.
Most Helpful
3 / 3 people found this helpful
rachel_dowbekin_5340276
About 2 years ago
Okay, so I'm new to Lush as I've recently begun to change all my cosmetics to natural & non-animal tested products. So things like hairspray (Which my hair needed for that umph) were no longer an option. I bought this in hope I would not have crispy, flat and greasy hair. I can honestly say i'll never be using anything else. It doesn't make your hair feel dry or crisp. It just gives it volume and more of a messy edge, I sprayed it in my hands before hand so it didn't all go in one patch. I definitely recommend it. It's a beautiful product!
Top Rated
5/5 stars
Gavrail
About 8 months ago
I bought this at 1st when I would mostly wear my hair in a ponytail and I I wanted something to hold down the fizzy bits, and give me more a sleek look. It provides hold but without being heavy, my collogue actually asked me if I was wearing hair gel.
Read More
Latest
1 month ago
Aleia Garcia
About 1 month ago
I decided to try as I was looking for something to stop using mouse and I have to admit my hair has never looked better. just using a bit of product on towel dry hair I get beautiful springy curls that look soft and healthy. If I had one complain is that the bottle is not too big and expensive for the size, but on the plus side my hair doesn't get as dirty as it did with the mouse, so I don't have to wash my hair daily or use the spray every morning. Hopefully this will compensate and make it last longer.
Read More
Most Recent
Most Recent
Most Helpful
Top Rated