Sea Spray
Hair Mist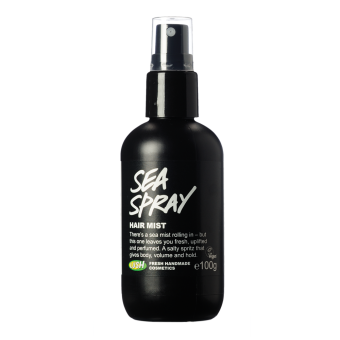 Get that beach hair look with this salty spray that gives a light hold and adds shine, leaving an uplifting, floral scent. Carrageenan, a seaweed extract, together with glycerine work to hydrate the hair. Mineral-rich fine sea salt and sea water give a volumised, beachy hair look, counteracting the flattening effects of soft water. This is then boosted by a simple styling ingredient called PVP, which is water soluble, so is easy to wash out.
Use on roots when hair is wet and then dry to lift hair at the root for big hair, or use all over the hair to create a glossy 'beach hair' look. You can also spray into wet hair and leave to dry naturally. When using on dry hair scrunch the hair as you go to create a more messy look and spray at the roots to create volume.
List of ingredients
Natural Ingredients
Safe Synthetics
*occurs naturally in essential oils.
We do not test our finished products on animals. We also only purchase from ingredient suppliers who do not test on animals. More.
Most Helpful
3 / 4 people found this helpful
lin_jun008_6092412
About 11 months ago
I really wish this product had clean fresh smell, since it is called sea spray..however it smells exactly like the discontinued hair gel, so strong, so unpleasant and lingering forever...neither fruity or floral smell, too aggresive, and it didn't spray like mist as the photo shows...effect is great though but the smell ruins the whole great thing...yuck!
Well, this is undoubtedly the best styling product ever tried. AND THAT SMELL!!!
Well, this is undoubtedly the best styling product ever tried. AND THAT SMELL!!!
Most Recent
Most Recent
Most Helpful
Top Rated