Cynthia Sylvia Stout
Shampoo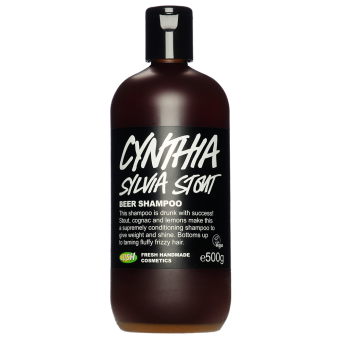 A gentle shampoo made with beer, vinegar, and lemon juice to give your locks a glossy sheen. Tradition has it that lemon juice and beer are great for the hair, so we've added lots to this shampoo. Lemon juice is also a terrific cleanser, whilst stout is rich in protein, which helps give the hair body and strength.
List of ingredients
Natural Ingredients
Safe Synthetics
*occurs naturally in essential oils.
We do not test our finished products on animals. We also only purchase from ingredient suppliers who do not test on animals. More.
Most Helpful
3 / 3 people found this helpful
mel_biggs16
About 1 year ago
I LOVE this shampoo. My hair loves it too. I have a lot of very fine, fly away hair that goes limp and oily quite quickly with the wrong products. Cynthia is the only shampoo that keeps it looking and feeling fresh for up to two days between showers. And, believe me, I've tried almost every other shampoo you do over my 20 year fandom of your brand!

Seriously, I panicked when I couldn't find it in the shops. If it disappears completely I'll be a very very sad person with limp greasy hair. Ain't nobody got time for that.
Top Rated
5/5 stars
LauraJM
About 1 month ago
From my mother, who has suffered with fine, limp hair all her life: "This is the first shampoo I have found that most definitely makes a difference and I can recommend it to anyone with the same problem! Even after using conditioner, shampoo still makes a visible difference and I don't have to wash my hair every day just to make it seem clean."
Latest
1 month ago
Sam Herbert
About 1 month ago
Bought this by mistake and what a lovely mistake it was! Great smell and left my hair bouncy and super shiney! Would buy this again but would prefer it as a shampoo bar :)
Most Recent
Most Recent
Most Helpful
Top Rated