Cynthia Sylvia Stout
Shampoo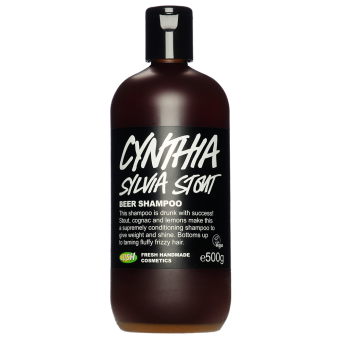 A gentle shampoo made with beer, vinegar, and lemon juice to give your locks a glossy sheen. Tradition has it that lemon juice and beer are great for the hair, so we've added lots to this shampoo. Lemon juice is also a terrific cleanser, whilst stout is rich in protein, which helps give the hair body and strength.
List of ingredients
Natural Ingredients
Safe Synthetics
*occurs naturally in essential oils.
We do not test our finished products on animals. We also only purchase from ingredient suppliers who do not test on animals. More.
Most Helpful
3 / 3 people found this helpful
From my mother, who has suffered with fine, limp hair all her life: "This is the first shampoo I have found that most definitely makes a difference and I can recommend it to anyone with the same problem! Even after using conditioner, shampoo still makes a visible difference and I don't have to wash my hair every day just to make it seem clean."
I've recently returned to this old favourite, having tried shampoo bars. Unfortunately the bars wrecked my hair. This shampoo instantly revived my long hair, making it full, soft and glossy once again. I pair it with American Cream Conditioner just to give me a bit of extra nourishment on the lengths.
Latest
2 months ago
B.wooldridge91_6439504
About 2 months ago
I have been struggling to find a shampoo that maintains a healthy pH level of my scalp. Through the usage of multiple antibiotics, my scalp biome was deteriorated and I was prone to fungal infections, irritations and excess oil production. This shampoo really helped to balance out everything on my scalp, and relieve the irritation. I 100% recommend this for those who struggle to maintain a healthy scalp!
Most Recent
Most Recent
Most Helpful
Top Rated